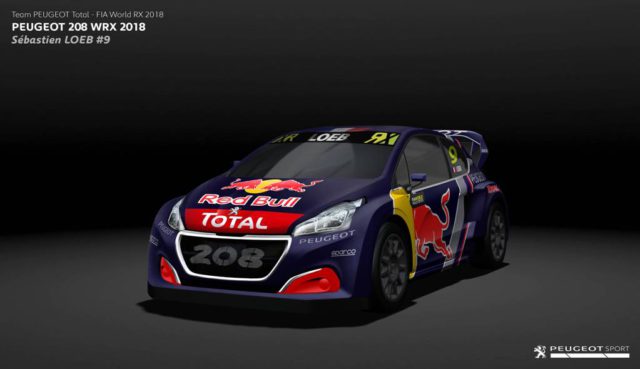 Peugeot is setting its sights firmly on a maiden FIA World Rallycross Championship presented by Monster Energy title win as it unveiled its latest 208 WRX challenger ahead of the 2018 season. The car is the first to be developed by Peugeot in-house following the decision to increase its level of factory support.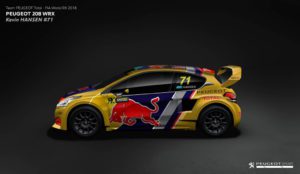 The brand marked its swansong Dakar Rally appearance with a third consecutive victory at the start of the year. Now the team is turning its attention to its World RX effort under the revised Team Peugeot Total banner. Between 2014-2017 the brand competed as Team Peugeot Hansen.
Despite the new name, the Hansen rallycross dynasty remains integral to Peugeot's 2018 World RX title endeavour. The driver line-up remains without changes. 9-time WRC champion Sebastien Loeb will continue racing together with Timmy and Kevin Hansen.
World RX Managing Director for IMG, Paul Bellamy, commented:
"We are delighted to see Team Peugeot Total not only continue its commitment to the FIA World RX Championship but do so with the full support of its factory team for the first time. Peugeot has been synonymous with World RX since we took the championship global in 2014. And the decision to bring its expert WRC and Dakar Rally winning team on board is both testament to its title aspirations and the fantastic platform World RX provides for manufacturers.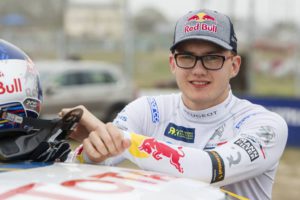 Bellamy added: "Coupled with a driver line-up that needs no introduction in Loeb, Timmy and Kevin Hansen, Peugeot will no doubt make a big impression this season."
Team Peugeot Total will bring a significantly revised 208 WRX to the grid in 2018. Development focused on making the 560 horsepower Supercar lighter, more powerful and easier to drive for Loeb and Timmy Hansen. Kevin Hansen will drive an evolution of the 2017-specification 208 WRX as a Team Peugeot-Hansen entry.
Bruno Famin, Peugeot Sport Director: "This marks the start of an exciting year for us, as the FIA World Rallycross Championship will be Peugeot's key motorsport engagement in a factory capacity, with new rivals and a new environment. However, even though we have some past knowledge of the sport through the Peugeot-Hansen team, we have to be realistic, as our competitors are very experienced while we will have to train our team for this new discipline from scratch!"
"Despite this big challenge, we are aiming for some wins this season, then something more in the seasons beyond. We decided to participate in world rallycross because we firmly believe in the future of this sport: the sporting format, which is short and intense, is exciting, the audience, younger than in other categories, is still growing, and furthermore, we also believe in the electric future of the championship."
"So, we are preparing for this new generation of powertrain and new generation of fans right now, with the clear aim of promoting our current Peugeot 208 and its successor."
Nine-time World Rally Champion Sebastien Loeb will begin his third season of World RX competition with a clear aim to be fighting for wins and the title in 2018
"My expectations are high for this year. Peugeot coming in as a factory team was exactly what was needed to take things up a level and enable us to fight for the championship. In the past we were close, but we were just missing a little extra. Now Peugeot's official engagement can bring us that. We won't have all the evolutions at the start of the year and that will make it difficult to fight for the championship from the beginning, but you never know: it all depends on how quickly we can develop."
"From a driving point of view, rallycross provides probably the most intense experience you can have as a driver. The races are very short, but the sensation is really amazing: the cars are like big WRC cars to drive, with 600 horsepower, so it's a lot of fun. I'm looking forward to the season."
?️ @SebastienLoeb "My expectations are high for this year. PEUGEOT
coming in as a factory team was exactly what was needed to take things
up a level and enable us to fight for the championship. In the past we were close, but we were just missing a little extra." pic.twitter.com/mcMLdYFl37

— FIA World Rallycross (@FIAWorldRX) March 5, 2018
As a five-time World RX race winner and former championship runner-up, Timmy Hansen is also entering the 2018 season with lofty aspirations of his own.
"I've never competed at such a high level before with a factory team. So it's an honour to be chosen to represent Peugeot at such an important time. We're expecting the car to be better than ever with all the evolutions implemented by the Peugeot Sport engineers. This certainly increases our opportunity to do well. But we've got to remember that there are some very strong rivals in this championship. I prefer to keep my feet on the ground."
"My aim is simply to do as well as I can on every round so that we can build on our progress step by step. I'm looking forward to getting behind the wheel at the first round in Barcelona; then we will see where we are compared to the others."
Fourteen-time champion and rallycross legend Kenneth Hansen will retain a key position within the bolstered 2018 effort in the role of team manager.
Team Peugeot Total will first be seen in action at the World RX Championship season-opener in Barcelona from 14-15 April.
2018 IS NEARLY GO!

The first Official Preseason Test kicks off tomorrow in Loheac and we'll be bringing you all the latest updates!

Day 1: 7 March
Day 2: 8 March pic.twitter.com/otg6SDBsxF

— FIA World Rallycross (@FIAWorldRX) March 6, 2018