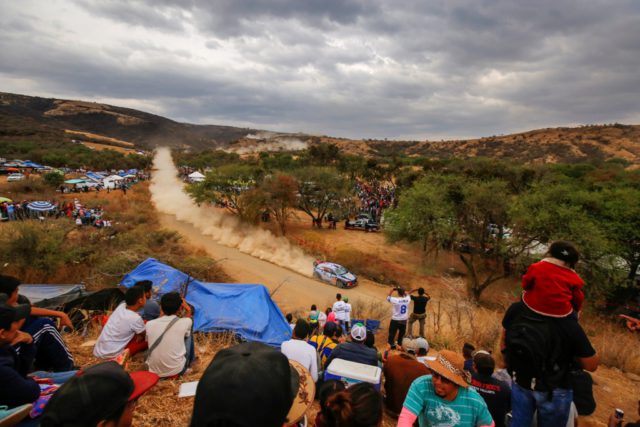 Hyundai will be aiming to keep hold of its advantage in the manufacturers' standings, as the FIA World Rally Championship (WRC) heads across the Atlantic for Rally Mexico, round three of the 13-event season.
Rally Mexico the first full gravel event of the season. It will offer a stark contrast to the two opening rounds of the 2018 championship. With the rally's geographical position at high altitude and typically hot climate, the event is often punishing for cars with engine power at a premium in thinner air.
The team will once again field three crews with Andreas Mikkelsen in the #4 car, drivers' championship leader Neuville in the #5, and Spaniard Dani Sordo returning for his second event of the season in the #6 car.
All three crews spent time putting the i20 Coupe WRC through its paces near to Girona in Spain. The region gave them a chance to replicate some of the conditions expected in Mexico.
Rally Mexico has been a happy hunting ground for Hyundai Motorsport in the past four years. The team memorably scored its debut WRC podium in the event in 2014, while scoring its first top-three result of last season on the Mexican gravel.
Team Principal Michel Nandan commented: "We were pleased to show a much-improved performance in Sweden, with results more representative of what we know we can achieve. Just looking at the overall positions of the manufacturers' championship, it's clear to see how close the competition is. Mexico will be a different prospect, so we have to tackle the event with realistic expectations. Thierry will be first on the road, as a result of his drivers' championship position. So we have to accept the job he will have of cleaning the stages. That's part of the game. Overall, we are hoping to defend our lead in the championship in this early phase of the season by scoring another strong team result."
The Hyundai Motorsport Driver development Program (HMDP) crew of Jari Huttunen and Antti Linnaketo will contest their second WRC2 round of the season in Mexico, following a strong season debut in Sweden. The Finns scored two stage wins on the tricky Norwegian and Swedish stages, outpacing far more experienced crews, ultimately finishing sixth. Without losing over four minutes in a snow bank on Saturday, the crew would almost certainly have been in the hunt for a podium finish.
Nandan added: "We were all impressed with how Jari and Antti approached Rally Sweden, and with their performance. It was intended to be a learning experience for the crew, in their first full WRC 2 campaign. They were able to show some good speed and consistency, regularly battling for top-three stage times. Mexico will offer them another valuable weekend of learning on gravel, and we look forward to seeing what they can do in their first participation at this event."
Mikkelsen opened his podium account for the team with a third place in Sweden
His best Rally Mexico result is third in 2015.
"Rally Mexico is an event I've done three times in the past. It's a beautiful rally with stages that are similar from one season to the next, so we know them well", Mikkelsen said. "It is always a warm event, so we have to take extra care of the brakes. It is also quite a rough rally, which means it very easy to make a mistake. There is typically a lot of road cleaning, and with stages being held at altitude the engine is down on power, so it requires a slight change of driving style. After finishing on the podium in Sweden, our first one with Hyundai Motorsport, I'm ready to fight for another strong result."
But being on top of drivers' championship means first on the dusty Mexican stages.
"We head to Mexico on the back of our fantastic win in Sweden, so our motivation and morale could not be higher. Mexico is a nice event and one that brings back good memories. I got my first podium there in 2013 and then scored Hyundai Motorsport's first ever podium just one year later. The rally has a more relaxed atmosphere, and it's generally a lot calmer for the drivers. We arrive a bit earlier than normal in order to acclimatise and adjust to the time difference. It is the first event of the year with higher temperatures – and altitude – making it a unique and enjoyable challenge", Neuville commented.
It's been snowing ? in Belgium, -3• while leaving home ? tomorrow morning to @RallyMexico ? Expecting more sun ☀️ & hotter temperature ??? #Wrc #RallyMexico #CoDrivingTheWorld #I30N pic.twitter.com/CLjcrQxQ0C

— Nicolas Gilsoul (@nicolasgilsoul) March 2, 2018
For Sordo, this would be his second WRC event of the 2018 season
He has two top-five finishes in Mexico with Hyundai Motorsport, including a near podium in 2016.
"I was pleased to see the team score its first win of the season in Sweden, and I am happy to be returning to the line-up for Rally Mexico. I have always enjoyed driving on the Mexican stages, which are lined with many passionate rally fans, who cheer and support us throughout the weekend. Road cleaning in Mexico can create a big difference between those first on the road and those behind. I hope we can benefit a bit from our position and compete near the front to help the team defend our manufacturers' championship lead", Sordo said.
Altitude ✅
Higher temperatures ✅
Awesome gravel stages ✅@RallyMexico always delivers ??✅
Check out our preview video ??#HMSGOfficial #WRC pic.twitter.com/XnyNEwsNKb

— Hyundai Motorsport (@HMSGOfficial) March 2, 2018