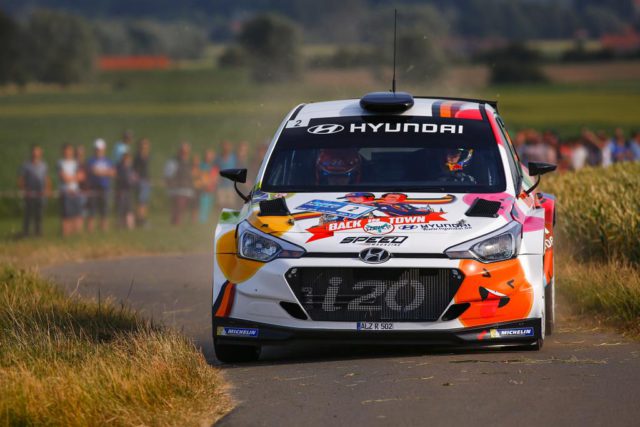 Hyundai Motorsport's i20 R5 customers will be able to call on a more powerful, responsive car this season. The improved i20 R5 comes thanks to the continued work of the engineers within the team's Customer Racing department.
The improvements are the latest product of tireless development and testing since it debuted in September 2016
The main developments brought to the car for the 2018 season are an uprated powerplant, introducing variable valve timing, and new engine map. Together the refinements gather more power from the 1.6-litre engine, as well as greater throttle response due to a reworked ALS strategy. The arrival of the changes marks the use of the final 'joker' available on the i20 R5 in its first two years of competition. However, they are not the only modifications to be made to the car for the coming season.
The changes are the result of extensive, on-going testing work. The engineers honed several crucial areas of the chassis, improving both the power and the handling of the i20 R5. These include new specifications of dampers for both tarmac and gravel settings, as well as a wider range of differential ramps for the car, allowing customers to harness greater performance from the i20 R5 as they seek to be competitive in their respective championships.
The latest developments will be fitted to all brand-new i20 R5 delivered following the March 1 homologation date
Existing customers, meanwhile, will be able to apply the changes to their cars from the same date as they prepare for their 2018 campaigns.
The winter months have been a busy period for the Customer Racing department.
i20 R5 claimed three titles during its first full season. Interest towards it has remained high. Customers in Portugal, Ireland and Paraguay purchased cars to run in their respective national championships this year. Last weekend the Paraguayan crew, Hyundai Motorsport's first customers in South America, took a sensational victory on their debut event with the car.
Hyundai Motorsport Customer Racing department manager Andrea Adamo said:
"We are always aiming to make sure our customers can compete at the very front of whatever championship they choose. The rapid pace of development within the R5 category means that we constantly have to be working in order to guarantee this. These latest improvements are the most important we have made since the car's debut. And they will allow our customers to again challenge for rally wins and championship titles around the world. This season our customers are competing in a wider range of championships. So we have to make sure we continue our work, in order for them to be on the pace in all conditions."
Anders Jaeger behind-the-wheel of a #Hyundaii20R5 and @AMikkelsenRally co-driving!? ? Follow them in their adventure at #RallyNumedal the weekend after @RallySweden! #WRC #HMSGOfficial https://t.co/kcgNNQkUCd

— Hyundai Motorsport (@HMSGOfficial) February 8, 2018