M-Sport revealed the livery evolutions for the EcoBoost-powered Ford Fiesta WRCs throughout the 2017 FIA World Rally Championship. The team will present the final designs in January 2017.
For the first time since 2005, the team will field two separate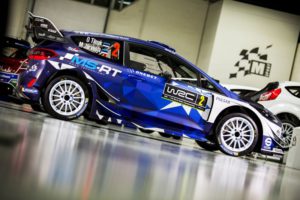 designs for their lead drivers. Sébastien Ogier and Julien Ingrassia will sport an iconic Red Bull scheme. Ott Tänak and Martin Järveoja take to the wheel of a geometrically-inspired design which inspiration comes from the eye-catching 'disguise' livery.
The team used a 'disguise' livery throughout the Fiesta WRC's intense test programme, which was originally for the all-new road-going Fiesta. The new model's premiere was in Cologne last month. The new generation Fiesta is the most sophisticated small car in Europe and has a huge range of assistance technologies as well as the most comprehensive and versatile line-up of variants in 40 years of Fiesta history.
The development of the Ford Fiesta WRC went on parallel with that of Ford's latest road car. M-Sport's debut at Rallye Monte-Carlo will also mark the introduction of the all-new Fiesta on public roads.
The geometric design forms the basis of both liveries. For Og
ier and Ingrassia, the number one Fiesta WRC is also with the World Champion's personal partner – Red Bull's popular motif. It makes the car's design instantly recognisable.
The invaluable support that M-Sport continue to receive from Ford is well represented. The 'Powered by EcoBoost' trademark is proudly on display. The same goes for long-standing partners Castrol and Michelin whose commitment has been paramount to the team's success.
M-Sport Managing Director Malcolm Wilson: We are immensely proud of the Ford Fiesta WRC and these eye-catching new liveries will add the finishing touch
New partners also include online betting company OneBet and prominent logos appear on both cars. The company takes a first venture into the high-octane sport of world rallying ahead of this exciting new era.
M-Sport Managing Director, Malcolm Wilson, said:
"We are immensely proud of the Ford Fiesta WRC and these eye-catching new liveries will add the finishing touch. The test livery captured everyone's imagination so we were keen to incorporate this alongside our valued partners both old and new.
"We can't wait to see both cars attack the stages of Rallye Monte-Carlo in their finalised designs. Until then, all that remains is to wish everyone a Merry Christmas and all the best for what looks set to be an exciting New Year."