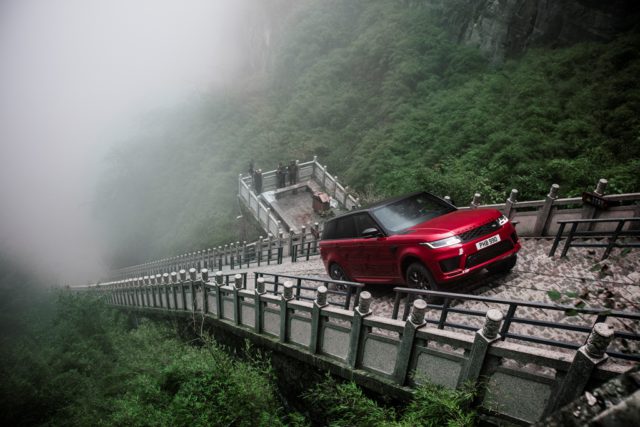 A dizzying 99 turns and 999 daunting steps didn't stop the new Range Rover Sport PHEV from completing a world-first at one of China's most famous landmarks. The petrol-electric SUV has become the first vehicle to climb the stairs to the natural rock arch of Heaven's Gate.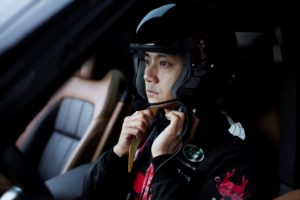 The challenge began at the bottom of the legendary 11.3km Tianmen Mountain Road (known as the Dragon Road). Ho-Pin Tung was behind the wheel while the adventure started with the Terrain Response 2 system in Dynamic mode.
At the summit of the road, the Formula E driver optimised Terrain Response for the second part of the challenge. He and the car conquered the towering 45-degree staircase using a combination of Ingenium petrol and electric battery power. After that, the Panasonic Jaguar Racing's driver did not hide his amazement.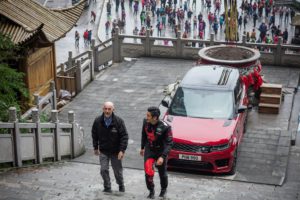 "I've experienced Formula E, Formula 1 and won at the 24 Hours of Le Mans. But this was, without doubt, one of the most demanding driving challenges I've ever faced", he said. "The Range Rover Sport PHEV performed brilliantly. It inspired real confidence on the mountain road and climbed the stairs up to Heaven's Gate effortlessly."
The new PHEV powertrain gives the Range Rover Sport a zero-emission EV range of up to 50km when fully charged. But Ho-Pin Tung used its advanced 300PS Ingenium petrol engine and 116PS electric motor to make short work of the road section of the challenge. The performance SUV then showed its uncompromised all-terrain credentials by climbing the steep staircase to the natural rock arch.
99 turns and 999 daunting steps: the new Range Rover Sport PHEV climbed the Heaven's Gate
Land Rover Experience expert Phil Jones pointed out this was the hardest challenge he was ever a part of.
"Until we reached the top, we couldn't categorically say we would succeed. By making it to the summit, we've proven the phenomenal capability of the Range Rover Sport plug-in hybrid like never before. [And] with a genuine world first", he added.
The Dragon Challenge is the latest in a series of adventures completed by the Range Rover Sport. The PHEV model made its debut in a race against two-time open-water swimming world champion Kerianne Payne and endurance athlete Ross Edgley in Devon, UK.
Previous exploits include a record-setting hill-climb at Pikes Peak, USA, a record crossing of the 'Empty Quarter' desert in the Arabian Peninsula and a 2,170m descent of the legendary Inferno downhill course in Mürren, Switzerland.
Introducing our latest work: the #DragonChallenge.
99 hair-raising turns and 999 brutal steps stand between the #RangeRover Sport Plug-In Hybrid and Heaven's Gate on Tianmen Mountain, China.

Watch the full documentary here: https://t.co/QpeBqX11ji #Spark44 pic.twitter.com/dCwnIjaQLJ

— Spark44 (@Spark44Global) February 12, 2018