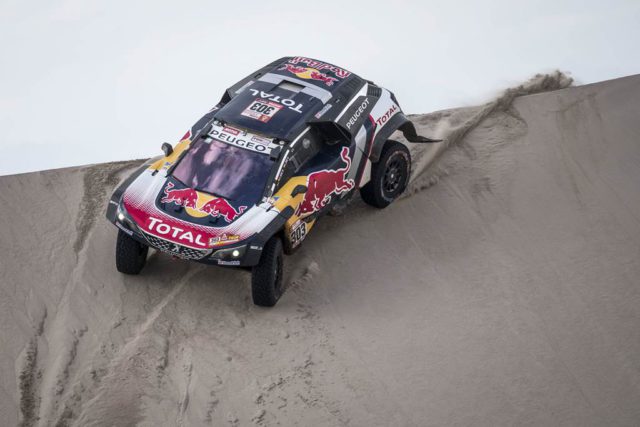 After Tuesday's unforgiving day a number of broken riders and drivers turned up for the start line of the 280km special stage from Salta to Belén.
The stage proved largely uneventful for many of the leading contenders in the car category. But plenty of drama unfolded elsewhere.
Tomorrow (Thursday) is the second marathon stage. With tiring bodies, the bike riders have to tackle a 375km special stage with the car riders enduring 523km on the way to San Juan.
Car
Dutchman Bernhard ten Brinke held off a trio of charging Team Peugeot Total cars to win his second stage of the race in the Toyota.
Cyril Despres safely brought home title contenders Carlos Sainz and Stephane Peterhansel with Nasser Al-Attiyah finishing one minute further back.
Sainz, who still tops the overall standings by 50 minutes, said: "It was demanding and difficult. I have lost two rallies on this stage and had many problems, in 2009 I was leading and finished in a hole so I was happy to finish."
Meanwhile, Sainz's 10-minutes penalty was cancelled by the organizers. Peugeot presented new evidence which showed no traces of a crash. The investigation was about an alleged accident between Sainz and quad driver Kees Koolen.
? GC – CARS??
1. @CSainz_oficial
2. @s_peterhansel +50'45"
3. @AlAttiyahN +1h14'42"#Dakar2018 #DakarArgentina
More / más info > https://t.co/R0ezQ07YE0 pic.twitter.com/C65XHpnDeZ

— DAKAR RALLY (@dakar) January 17, 2018
Bike
After the disappointment of Tuesday's navigational error, 2016 champion Toby Price attacked from the off and clinched a first stage win of the race.
The Australian was leading as early as 48km into the stage and held off Kevin Benavides and teammate Antoine Meo for the victory. Matthias Walkner still holds a commanding overall lead while rival Joan Barreda, who was second in the GC, retired from the race after 100km.
Price said: "It wasn't the result we wanted yesterday and today we needed to claw back a bit of time, which we have done. There is still a long way to go."
? GC – BIKES?️?
1. @MatthiasWalkner
2. @kmbenavides +32'00"
3. @tobyprice87 +39'17"#Dakar2018 #DakarArgentina pic.twitter.com/2pkRFRWabD

— DAKAR RALLY (@dakar) January 17, 2018