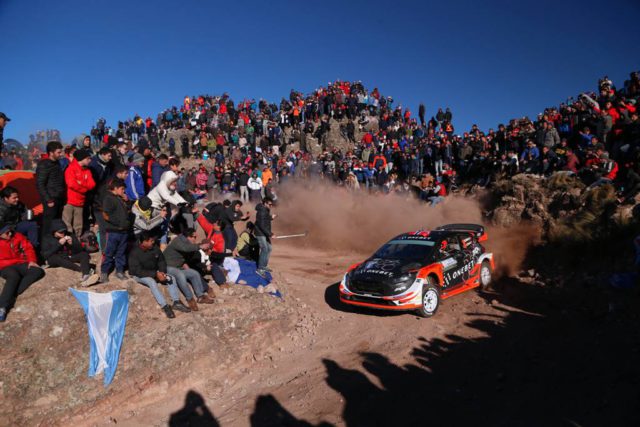 Mads Østberg was irritated by FIA's quickly imposed ban on testing 2017 World Rally Cars outside of Europe. The federation closed the opportunity privateers had after a complaint against the Norwegian.
Østberg had a testing session in Argentina before the WRC round there at the end of April. He insisted that the testing rules for factory teams did not apply to him as a privateer. Mads even said that he took the complaint as a compliment, because some teams were surprised by his speed and looked for a way to stop him.
FIA did not take any measures against Mads Østberg but closed the rule. Even before that the Norwegian was considered to be under the M-Sport umbrella. The reason is the 2017 requirement for all 2017 WRC drivers to be entered via a manufacturer team.
The move left Østberg in frustration – he pointed out that he did not really understand the decision.
"I just have to see the funny part – it's a rule that's been here for 15 years and now they change it", he told Autosport.
"What do I have on the factory teams? It's ridiculous. I mean, come on."
The FIA explanation was rather different. Their point was that this would stop a local team in Australia making tests for Citroen, for example, and handing the French team the data.
Mads Østberg was irritated by FIA's quickly imposed ban on testing 2017 World Rally Cars outside of Europe
Rally Argentina was the second WRC event for Mads after his appearance in Sweden. He took part in the Portugal round later and won a battle with Toyota's Jari-Matti Latvala for 8th place. The Norwegian driver also made the longest jump on the Fafe – 36 metres.
"I saw the 40 metre sign coming towards us and we landed with our front left wheel more or less on top of it. A little bit more "exciting" than we had planned perhaps, but fun to give the huge crowd something to cheer for", he explained.
Mads and Ola Floene started the rally with ambitions to fight for a top position
Their chances were destroyed with two punctures midway through Friday.
"The first one we survived, but on SS5 we had to stop and change the wheel and lost three and a half minutes. So the rest of the rally has been a question of finishing and testing different set-ups. Of course it has been disappointing not to be up among the frontrunners, but we have won two stages in this rally and also gained a lot of valuable experience."
A talking point in this rally has been the shiny gold coloured roof on Mads' Fiesta. It has actually nothing to do with livery or aesthetics, but has a fully practical reason.
"We started to talk about the heat inside the car in Argentina. A black roof on the car actually sucks the rays of sun and heat into the car, and then someone suggested a shiny and reflective surface on the roof. And shiny gold really does the job. It has been much cooler inside the car and much more comfortable for Ola and me. On long stages we have experienced less sweating and dehydration."
After taking to the skies at Colins Crest, @MadsOstberg sure didn't disappoint at @rallydeportugal #Fafe with a whopping 36 metre jump! #WRC pic.twitter.com/gN7vfbM0Xa

— Rally Australia (@RallyAustralia) May 28, 2017