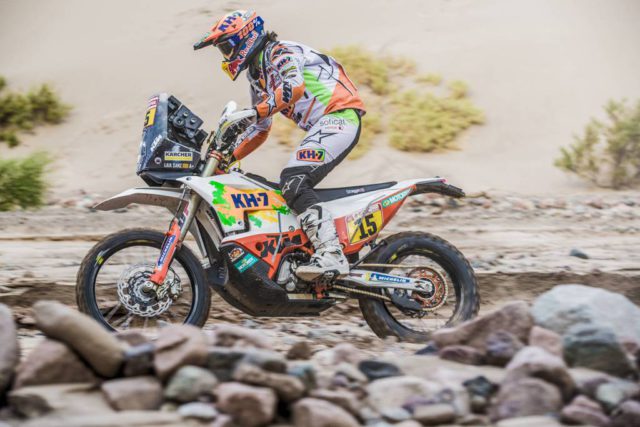 Stage 12 of the 2018 Dakar was cancelled for two of the participating categories. The bike and quad riders will travel normally through the route while cars and trucks will continue to race.
The organizers issued late last night the following statement:
"Following the study of the safety conditions for bikes and quads race tomorrow, despite a first modification of the stage announced this afternoon, having consulted the competitors grouped at Fiambala's marathon bivouac, the Race Direction has taken the decision to cancel the 12th special stage for bikes and quads."
"The first bike will start the liaison from Fiambala to San Juan's bivouac at 6 a.m. The cars and trucks race remains unchanged."
In Stage 11 Nicolás Cavigliasso took a second consecutive victory in the quad category. The Yamaha rider is a revelation since the race entered his home country. The Argentine enjoys a really long streak. Ignacio Casale followed him over the line 15 minutes behind but still comfortably leads the race.
In the trucks section, Eduard Nikolaev has dominated this Dakar since the start in Peru. But he leads no more after a difficult stage in which he lost more than 40 minutes to new race leader Federico Villagra. Siarhei Viazovich won his maiden stage but it was the Argentine Villagra who profited the most from the Russian's demise and he now takes a 16-minute lead into the final stages.
Stage 12 of the 2018 Dakar was cancelled for two of the participating categories
During the last part of #Dakar2018, it is ?? the country which amaze us with its landscapes. Enjoy the one we choose for today.
// En la última parte del #DakarRally, es ?? la que nos maravilla con sus paisajes. Disfruta el que hemos escogido para hoy. pic.twitter.com/jmecyOqV18

— DAKAR RALLY (@dakar) January 18, 2018
With the SS 12 cancelled for bikes & quads, the first ?car – @b_tenbrinke – will leave at 10 GMT
// Con la anulación de la SS para motos & quads, el primer ?auto saldrá a las 10 GMT#Dakar2018 #DakarArgentina
More / más info > https://t.co/R0ezQ07YE0 pic.twitter.com/KtcTtHYUof

— DAKAR RALLY (@dakar) January 18, 2018