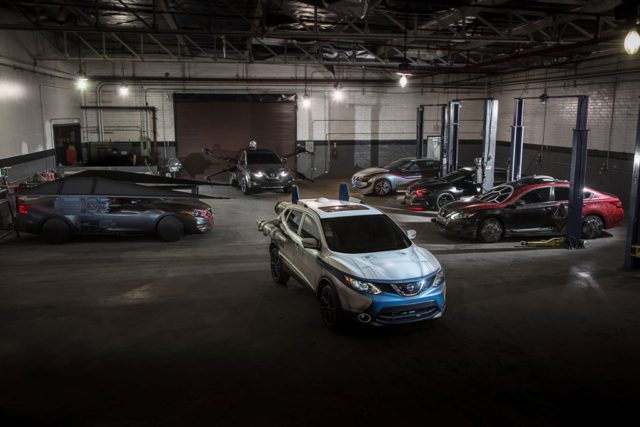 Nissan is showing six Star Wars-themed show vehicles at the Los Angeles Auto Show in celebration of the brand's ongoing collaboration with Lucasfilm for "Star Wars: The Last Jedi". The show vehicles are a dramatic display to highlight Nissan's expressive designs and the famous characters and crafts from the upcoming film, debuting in theatres Dec. 15.
"We're back this year collaborating with Lucasfilm and the artists at Industrial Light & Magic to create these amazing concept vehicles across some of our best-selling models", said Jeremy Tucker, vice president, Marketing Communications & Media, Nissan North America, Inc. "These show vehicles were created for our fans."
When Star Wars meets Nissan. Now playing at the 2017 #LAAutoShow through December 10 pic.twitter.com/SFwrIahIrs

— Los Angeles Auto Show Dec. 1-10 (@LAAutoShow) December 6, 2017
Nissan is showing six Star Wars-themed show vehicles at the Los Angeles Auto Show
The project uses first the expressive lines of some of Nissan's most popular models – Rogue, Rogue Sport, Altima and Maxima. Artists from inside the Lucasfilm offices developed the "Star Wars" themes. Lucasfilm penned the designs, textures, etc. pairing the vehicles with a craft or character from the film.
Each concept receives a unique approach, including extras such as hydro-dipped graphics, surround sound and aged exterior design to show simulated use in battle. With designs complete, the legendary Hollywood vehicle fabricators at Vehicle Effects in Burbank, California, brought the sketches to life.
The vehicles are not for sale.
Earlier Nissan created the special Rogue and Rogue Sport, which also take inspiration from "Star Wars". Both had a redesign in 2017. There was also a Rogue One Star Wars Limited Edition. It was the first production vehicle with Star Wars elements, while only 5400 were available at the American and Canadian markets.
"The Nissan Rogue and the first Star Wars standalone movie share more than just a name. The Star Wars film franchise has pushed the boundaries of technology since the debut of the original episode nearly 40 years ago. Nissan is doing the same with its industry-leading cars, trucks and SUVs like the new Rogue. So it's natural that the two join forces", said Tucker.
The Nissan fleet reimagined with Star Wars: The Last Jedi. #NissanandTheLastJedi #NissanLAAS pic.twitter.com/Caj1lEOVTe

— Nissan (@NissanUSA) November 30, 2017