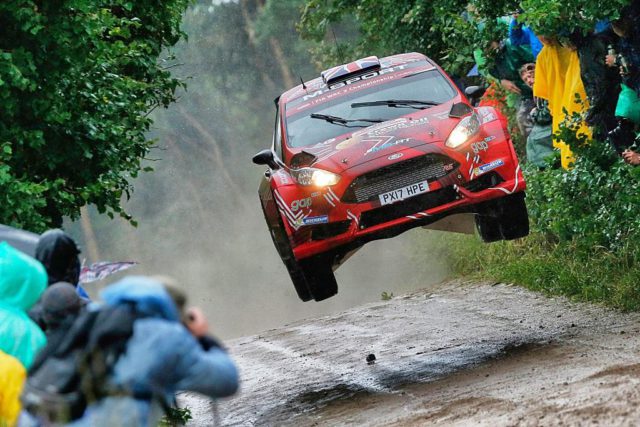 M-Sport will field five Ford Fiesta R5 at next week's Neste Rally Finland. The rally, known as the Gravel Grand prix, is a real test for all crews, but Éric Camilli, Gus Greensmith, Pierre-Louis Loubet, Osian Pryce and Max Vatanen are ready for it.
Éric Camilli said:
"Finland is a very special place for rally. I think every driver looks forward to this event and to driving stages like Ouninpohja. The speeds that we reach through the forests are incredible and there really is no better feeling than knowing you have delivered a good stage on these roads.
"We won't be competing for WRC 2 points, but I think we have a good chance of challenging for a top result in the class. So far we have proven that we can be competitive on a lot of different gravel surfaces, and I'm looking forward to seeing what we can do in Finland. We'll certainly be giving it our all and I'm looking forward to rallying in Finland again."
3rd in Poland !! ???
Week-end really positive, it was a good fight with the leading !
See you in 3 weeks friends for the Fast Finland Rally! pic.twitter.com/0KRtMTxXPy

— Eric Camilli (@EricCamilli) July 2, 2017
Gus Greensmith said:
"Finland is the home of rallying with roads that you simply cannot find anywhere else in the world. If you hook up the perfect stage here, you can go into what can only be described as a complete state of trance.
"It's an awesome rally, but it's also a very tricky rally. There are a lot of dodgy corners which claim a lot of victims every year. Recognising those corners is the hard part for any non-Scandinavian, so we've been working hard to be on the top of our game.
"We completed a productive test rally in Finland last week – Autoglym Rally – which helped me find a good feeling and set-up for what's to come. I've also stepped up my physical training to achieve a greater level of focus.
"I think that we've found some good speed in the last couple of rallies and I now feel comfortable fighting at the front of the WRC 2 category. There's still a lot more to come, but I think we're making all the right steps forward so I would hope a podium isn't too much to ask for next week."
Pierre-Louis Loubet said:
"Rally Finland is one of the most incredible events in the championship, and also one of the most magical. It is a real honour to participate in this rally.
"In the lead-up to the event, I have worked hard on my concentration levels as this is very important on such a difficult and demanding rally.
"We'll also need to work hard on the recce to make very good Pacenotes as this is also very important. Then when the rally starts, we'll need to find confidence from the start to be competitive.
"I'm looking forward to this one and will give 100 percent to achieve the best possible position."
Osian Pryce said:
"In my eyes, Rally Finland is one of the most popular events in the world and every driver has it on his or her to do list. The terrain is out of this world – it's amazing and there is nothing else like it.
"The biggest challenge is discovering how fast you can actually go before you go over the limit! The nature of the roads can tempt you into 'having a go' but one wrong line over a crest can change everything.
"My aim is to learn the speed with an R5 car on this rally. It's quite specialist so the Scandinavians will be fast, but we will push on the stages that we have done before and the ones that we feel comfortable with.
"A more measured approach will be needed for the trickier stages as we want to make sure we get to the finish and take the maximum of the opportunity."
Great to catch up with the ALPHERA crew yesterday. Thanks for a great evening and your continued support! ???? @AlpheraFS pic.twitter.com/tFLDeJgkXr

— Osian PRYCE (@OsianPryce) July 21, 2017
Max Vatanen said:
"Finland is known as the land of rally. As a Finn, driving on home soil, this event is made even more special with the support of the local fans. I think all drivers agree that it's the rally with the biggest sensations behind the wheel – it's like being on a rollercoaster!
"The average speeds are higher than anywhere else in the world and you need to be very committed over the jumps. We'll have a pre-event test on Monday to work with the engineer and get a good feeling before the rally. Our main objective is to enjoy and get more valuable experience."