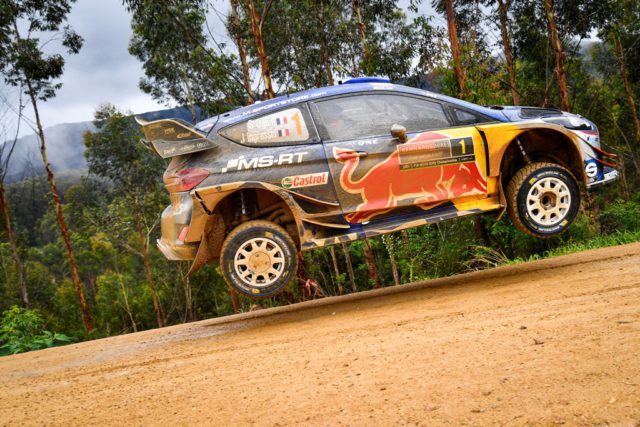 Having secured their fifth World Championship in Wales, Sébastien Ogier and Julien Ingrassia travelled to Rally Australia on a high. But in a stark reversal of fate, the pairing did not enjoy the best of fortunes during the last rally of 2017.
Hampered by their road position through the opening stages, the Frenchmen have also had to contend with some niggling technical issues – an intermittent electrical glitch with the gear selection preventing a champion's attack through all of the stages.
Despite their misfortunes, Ogier and Ingrassia did what they do best when the going gets tough – keeping their focus to deliver a solid fourth place as well as maximum points with the fastest time through the Power Stage.
"It was not the smoothest of rallies for us, but at least we finished on a small positive with victory in the Power Stage", Ogier commented
"To be honest, it was more or less the only stage of the rally where everything was working for us. We had a lot to contend with that weekend – with the technical issues and also with our starting position through the opening stages. We just tried to stay focused and in the end that strategy paid off as fourth place was pretty unexpected."
"But regardless of that weekend, it really has been a fantastic season. A big thanks to Malcolm [Wilson] and the whole team. What we have achieved together this year really is incredible."
"I can only tell you it was my last stage for 2017, that's for sure. It was a tough weekend, we had quite some issues and we struggled a bit with our start position sometimes. Still it was a fantastic season for us!" #RallyAustralia #WRC

— Sébastien Ogier (@SebOgier) November 19, 2017
Elfyn Evans and Daniel Barritt knew that they would struggle if the sandy Australian stages remained dry
Unable to attack through the first two days of sunny competition, the pairing focused on gaining vital knowledge and experience for the future. But as torrential rain battered the final day's stages, Evans was able to deliver a number of competitive times including the fastest time through Pilbara Reverse (SS17) – securing fifth place and his best ever result at Rally Australia.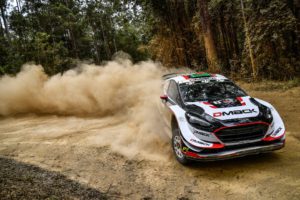 "We knew that we would struggle, but with the rain [at the end] we had an opportunity to use the soft tyre. It was a more enjoyable for sure and it was nice to secure a stage win. It was unfortunate that we encountered a few little niggles after that. But all in all, not a bad way to finish off the weekend", Elfyn said.
"The season as a whole has been amazing for the team. We've worked with some great people this year who really deserve this success – a big thanks to all of them."
It's been a pleasure to work alongside everyone at @MSportLtd & @DMACK_Tyres this year – Thank You! pic.twitter.com/C4urt1Zop7

— Elfyn Evans (@ElfynEvans) November 21, 2017