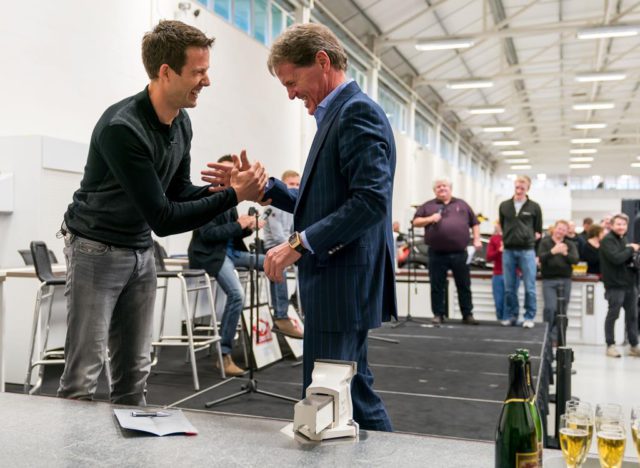 M-Sport announced that Sébastien Ogier and Elfyn Evans will continue their commitment to the team throughout the 2018 FIA World Rally Championship – leading the Cumbrian squad alongside their respective co-drivers Julien Ingrassia and Daniel Barritt.
With both crews having good knowledge of the EcoBoost-powered Ford Fiesta WRC, development can continue at pace – Ogier and Evans both determined to add to M-Sport's repertoire of podiums, wins and championships in the year to come.
Negotiations with both crews have been on-going for some months and, during a team celebration at Dovenby Hall earlier today, Ogier spontaneously took the lead – he and Evans putting pen to paper there and then in front of M-Sport's 240-strong workforce.
News on a third Ford Fiesta WRC is expected to be announced in the coming weeks.
Team Principal Malcolm Wilson said:
"To have secured both Sébastien and Elfyn is brilliant news for the team. We've been working towards this goal for some time, so to finally have it confirmed is fantastic and means that we can now focus our attention on the continued development ahead of next season."
"In Sébastien and Elfyn, we have a strong chance of defending our titles. It won't be easy. Our rivals certainly won't have sat still and I'm expecting an even closer battle for the championship, but with these two crews, we have a good chance. They're both very intelligent drivers. There is no doubting their speed, but they also have a masterful approach to strategy that delivers results time after time."
"There's no reason why we shouldn't be confident of adding to our success next year and – seeing the reaction of the team this afternoon – I know that everyone will continue to give 110 percent."
Sébastien Ogier said:
"It's great to finally announce our plans for 2018. What we have achieved together has been truly amazing, and we want to see that continue – to continue this fantastic journey and to defend all that we have achieved together."
"This season has been very exciting with some of the closest-fought competition for years. As a driver, I definitely want to be a part of that. I still get a lot of emotion from this sport, and this team has so much passion. That made my decision clear, and we will work hard to chase more success together next year."
It's great to finally announce that we are staying in @MSportLtd for 2018. What we have achieved together has been truly amazing, and we want to see that continue – to continue this fantastic journey and to defend all that we have achieved together. #WRC https://t.co/vsvq7aaquH

— Sébastien Ogier (@SebOgier) November 28, 2017
Elfyn Evans said:
"After a fantastic season for the whole team, it's great that we'll be a part of it again next year. After getting that first victory under our belts, we're ready to take the next step and I think we all have another exciting season ahead of us."
"Honestly, I can't wait to get back behind the wheel and Rallye Monte-Carlo can't come soon enough. We'll be working hard over the Christmas break to ensure we're fully prepared, and the goal will be to build on the success of this year."