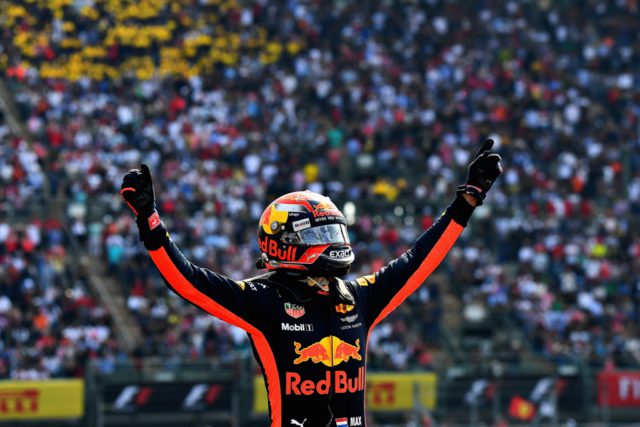 Max Verstappen took a wonderful victory in the Mexican Formula 1 Grand prix. It got a bit lost as meanwhile, Lewis Hamilton won his fourth title. But nevertheless, the young Red Bull driver had a lot to be happy about.
"A great win and a fun podium, a Dutch DJ and Dutch driver, what a combination", Verstappen exclaimed after the race
"The start of the race itself was not great but this allowed me to tuck in and get a tow from Sebastian [Vettel]. I had to be a bit aggressive. But I managed to get around the outside at turn one and from then on I was just doing my own race. I would go as far to say this was one of the easiest races of my career. I felt I missed out on pole so I had a lot of motivation to get the result I wanted.
"To get not just a podium but the win is awesome. We calmed the pace and turned down the engine to make sure we brought the car home. So I was just cruising towards the end. I was confident the car was going to be good after studying the long run pace we have shown this weekend. This track with low speed and low grip suits our car, but even in Austin we had the balance and pace, I just had to come from way down the grid. Once we had got the balance of the car right it was easy for us to do quick lap times and sustain them."
"I think if we keep working this way and have a better start to the season next year we can look forward to achieving great things
"The podium in Mexico is special to be on as the fans are so passionate and being in the stadium section means the atmosphere is like nowhere else, it definitely made up for missing it last year. Like I said in the car on lap 1, it was simply, simply lovely."
Simply, simply lovely! ? Thanks @redbullracing, the car performed brilliant ? To all the fans: ¡Muchas gracias! ? #keeppushing #MexicoGP ?? pic.twitter.com/HI6CqOG3xB

— Max Verstappen (@Max33Verstappen) October 29, 2017
While Verstappen was happy with everything, his teammate Daniel Ricciardo had a weekend to forget
He retired from the race with a power unit problem.
"At the start, I did what I could, it was pretty close and there was a lot going on, but I thought I made quick progress. I told Helmut [Marko] in the morning that I would get up to seventh by the end of the first lap, I was a couple of laps off, but I got there and it was all looking pretty good. I think it was lap six when the turbo started to sound strange. And then I had no power", the Australian driver explained.
"I was able to limp back to the pits but that was obviously race over. Friday looked good, things went bad on Saturday afternoon and then got worse in the race. We put the new power unit in and now we have an MGU-H failure. There seems to be something fundamental going on with the engines. We've been coming here for the last couple of years so there shouldn't have been any surprises. I guess the altitude and temperatures have been really hard to stay on top of. And it's been a pretty grim weekend for some of us."
"It's a shame to be out so early again. I guess this is a little bit of what Max experienced at the start of the year and it's not so fun. I don't know how I'm smiling and I'm definitely hurting inside. But what can I do, I can't change the situation."