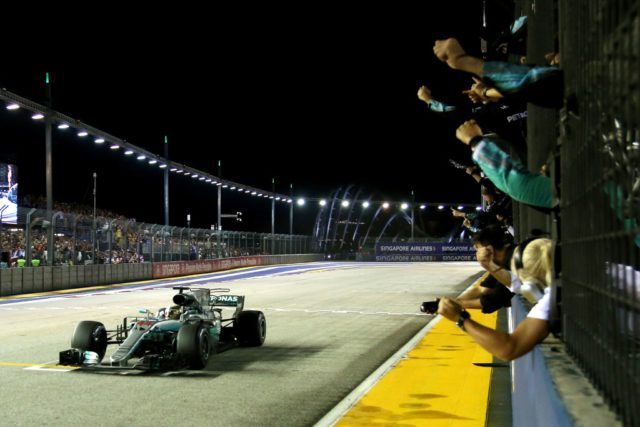 The Mercedes team was discussing damage limitation on last Sunday's morning after a really bad qualifying at the Singapore street circuit. Lewis Hamilton and Valtteri Bottas were on the third row of the grid – fifth and sixth. The team obviously did not have very high expectations, but at the end of the day left Singapore with a bigger lead in both championships after a win and a third place.
An #F1NightRace to remember… ? pic.twitter.com/UumWwXmJNo

— Mercedes-AMG F1 (@MercedesAMGF1) September 18, 2017
"This was one of those days that reminds you what an unbelievable sport motor racing can be", Mercedes-Benz Motorsport director Toto Wolff commented
"And reminds you, too, that the points are only scored on Sunday. Of course, it goes without saying that we got a big slice of luck. Not only did we avoid the chaos at Turn One but we also escaped without damage to both cars. After that, though, we had to make the most of the opportunity that had been presented to us. And out-race a very fast Red Bull."
"Lewis did that brilliantly, showing good race pace on both types of tyre. Valtteri picked his way back through the field to the podium."
Wolff admitted that the emotions at the end of the race were very different to what the team felt only 24 hours before that. Still, he pointed out that Mercedes cannot let any slips until the end of the season.
"This result doesn't change a thing in the big picture. If anything, it's a stark reminder that there are six more opportunities for the luck to go against us this season. Just as it happened to Ferrari. We will celebrate our result. But, after that, it will be full focus on the next challenges ahead", Wolff said.
Technical director James Allison was also understandably jubilant and cautious at the same time
"In the two weeks since the last round of the championship, and in all the hundreds of hours worked and thousands of simulations made, nothing pointed to a result quite like this one", he said.
"Formula One is incredibly complicated. But days like this remind you that it is still a sport. And that you never know what might happen. After a difficult weekend prior to Sunday, the manner in which the cards all fell so right for us in the opening corners gave us a massive lift."
"But after that huge dose of luck, it was a relief to show that we had good race pace to justify our good fortune. And we couldn't be more delighted with the way Lewis and Valtteri made the most of it. This is a brilliant result for both titles. But there is still a very long way to go in this championship race."
??? #F1NightRace pic.twitter.com/MtIpO93xr4

— Mercedes-AMG F1 (@MercedesAMGF1) September 17, 2017