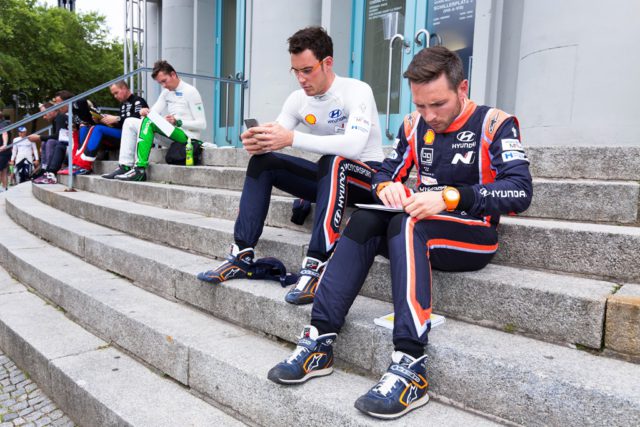 Forty-five days. Forty-five days. As mid-season breaks go, that's a proper one. But how welcome is it? Sure, it's an opportunity to take time out, take a vacation… but putting one of the WRC tightest fights on hold for more than a month isn't everybody's cup of tea.
Belgium's Thierry Neuville has, for example, longer than he'd like to stew on the loss of his championship lead last time out in Rally Germany
"I would like the next rally to start soon," said the Hyundai star. "I could be angry with myself for what happened in Germany, but that won't help. Instead, I will keep the motivation during the break. This year is not over."
Our judges… Firm but fair! ? #RedBullZeepkistenrace #RedBullCaissesASavon pic.twitter.com/7lut98SWiY

— Red Bull Belgium (@RedBullBe) September 10, 2017
Neuville's title rival is four-time champion Sébastien Ogier. The arrival of his first son Tim has put a slightly different slant on downtime for the superstar Frenchman; he can't get enough of it these days.
"I took a holiday already, so the batteries are quite well charged," said Ogier, "but more family time is always welcome. We are also looking towards next season and some people will be coming back from their company holidays, so we can start talking again about 2018. This time is important for that. Last year I was not decided [where to drive] until really late. This time I want to know what's happening by the end of the month [of September]."
Recharging batteries with the #LoveOfMyLife ? @AndreaKaiser in #NewYork pic.twitter.com/7LpOncoMb4

— Sébastien Ogier (@SebOgier) September 6, 2017
Training camp in Font Romeu with this guys! @SebOgier @321perform ?? (ps: 4 world champion titles on this picture ) #pyrenees #preparation pic.twitter.com/vZPclCv4xH

— dorian boccolacci (@DorBoccolacci) September 19, 2017
Regardless of the holiday, the one thing which doesn't change for WRC crews is the approach to fitness
"Running is my thing and during this break I'm always doing a little bit more than normal. When there's no rally coming, I like to push that bit harder, it helps to keep you sharp", said Citroen's Craig Breen.
Breen has busied himself with a house move, hopping from Ireland to Italy since Germany.
"There's always loads to do when you move house," he said, "but I'm also testing and doing a small rally in Portugal. I couldn't be away from a rally car for that long!"
The Citroën Ireland team with special guest, Citroën Total Abu Dhabi World Rally Team driver @Craig_Breen #citroeninthecity pic.twitter.com/gjgaJwvHSI

— Citroën Ireland (@CitroenIreland) September 15, 2017
Breen's Citroen team-mate, Paul Nagle has been busier than most after his son Fitz was born during Rally Germany
"It's been great having this time," said Nagle, "helping with the feeding and everything, and being able to relax and not worry too much about waking up at two in the morning is brilliant. But from next week, I'm back in the office and focused on Spain. I'll be studying the notes, watching the onboards and getting ready to go again."
In the blink of an eye, those 45 days will be done and we'll be onto the home straight of an absolute thriller of a season.