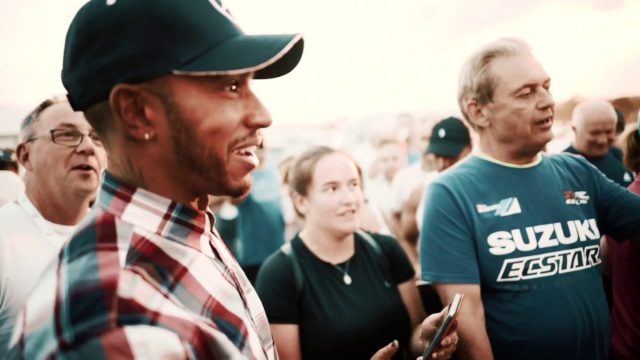 The end of the weekend at the Silverstone circuit was not the dream Lewis Hamilton had. He finished second in the British Grand prix after an incident in the first lap, a spin and going to the back. The Mercedes driver fought back and managed to get on the podium. Hamilton was not that happy but at least during the weekend, he had some really interesting happenings.
On Friday before qualifying the four-time Formula 1 world champion went to see the Silverstone volunteers. He drove a van, admitting it had not happened to him for a long time. Then Lewis brought the people some beer and snacks and spent some time with them on camp. The Englishman even stayed for a barbeque. There were funny moments like the one when Hamilton took a beer a guy gave him and a woman shouted to him that he's "driving tomorrow"!
The volunteers showed their appreciation towards Hamilton and had numerous selfies and autographs. The British Grand prix was the tenth round of the 2018 Formula 1 world championship and the third race from an exhausting triple-header. The next race is the German Grand prix on July 22nd – another home event for the Mercedes team.
Hamilton visits the Silverstone volunteers
When @LewisHamilton drops by for your BBQ… ? The full story of Friday evening at @SilverstoneUK… ? pic.twitter.com/blIJHLaoxR

— Mercedes-AMG F1 (@MercedesAMGF1) July 11, 2018