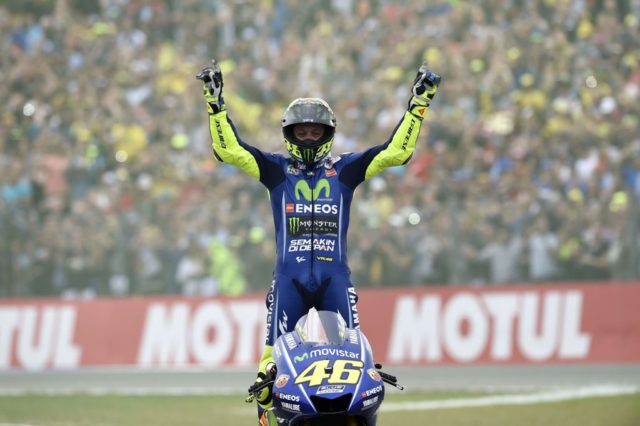 Valentino Rossi signed a new deal with Yamaha and will continue to race in MotoGP for 2 more years after 2018.
⚠️ BIG NEWS from the #QatarGP @ValeYellow46 signs a new deal with @YamahaMotoGP ✍️

The Doctor will be in #MotoGP for TWO more years after 2018 pic.twitter.com/i1paBKX3SH

— MotoGP™??? (@MotoGP) March 15, 2018
The contract extension comes just before the 39-year-old will embark on his 13th season with Yamaha, starting at the Grand Prix in Qatar
The combination of the Doctor and the YZR-M1 has led to many milestones in the past and together they secured four MotoGP World Championship titles. He is Yamaha's most successful Grand Prix rider in history. Rossi has 56 wins, 43 second places and 35 third places secured in 206 races with the brand. Moreover, out of the manufacturer's 500 Grand Prix victories, achieved in Le Mans 2017, exactly 11% of those victories were secured by him. That makes him the biggest contributing rider, having scored 55 victories on a Yamaha up to that point.
"The confirmation of Valentino's two-year extension of his agreement with Yamaha is a great way to start the 2018 season that kicks off officially on Friday in Qatar", said Yamaha's managing director Lin Jarvis.
The news may not be a great surprise because Valentino has made it clear that he wanted to continue to race, but the reconfirmation will surely come as welcome news for his millions of fans around the world"
"It was very easy to reach an agreement together. As a Factory Team we need top riders capable to win and with the total commitment to do what it takes to achieve the goal. Despite his many years in the sport and his 39 years, Vale is as committed today as he ever was and there is no doubt he is still a top rider, as witnessed most recently by his second position in the final pre-season test here in Qatar. Now it is our job as a team and a factory to give him the best possible YZR-M1 to let him fight for race wins and championship success."
"Having both Maverick [Viñales] and Valentino now signed for 2019-20 allows us to just focus all of our energy on the 2018 season and to be strong contenders at every single MotoGP Grand Prix. It promises to be a highly competitive season. And like all the fans – we in Yamaha are truly excited to go racing on Sunday night here in Losail."
Rossi added: "When I signed my last contract with Yamaha, in March 2016, I wondered if that would have been the last contract as a MotoGP rider. At that time, I decided that I'd take that decision during the following two years. During the last two years I came to the conclusion that I want to continue because racing, being a MotoGP rider, but especially riding my M1, is the thing that makes me feel good."
"Having the opportunity to work with my team, with Silvano, Matteo and all my mechanics, and working with all Japanese engineers, Tsuji-san, and above all Tsuya-san, is a pleasure – I'm happy"
"I want to thank Yamaha – Lin Jarvis and Maio Meregalli in particular – for their trust in me, because the challenge is difficult: being competitive until I'm 40 years old! I know it's going to be difficult and it requires a lot of effort from my side and a lot of training. But I'm ready. I am not lacking in motivation, that's why I'm signing for two more years."