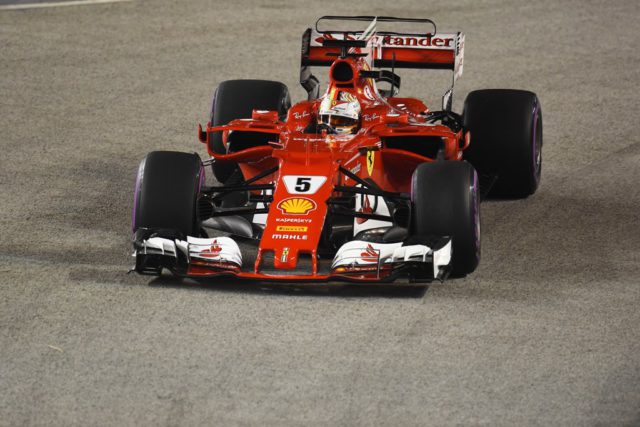 The first lap incident – right after the start actually – in the Singapore Grand prix, which led to the immediate retirement of Kimi Raikonen and Max Verstappen, stoppage of Sebastian Vettel a couple of corners later and ultimately that of Fernando Alonso, was probably discussed longer and in greater detail that Lewis Hamilton's win.
The opinions of the caught in the crash drivers differed.
A decisive twist in the title race…? pic.twitter.com/6SyRlZQuMk

— Formula 1 (@F1) September 18, 2017
Vettel said he was not sure what happened
"I had an average start and then I moved slightly to the left trying to defend my position from Max. Then I got bumped on one side as Kimi's car hit me. I'm not sure what happened. I span at turn 3, but that's because the car was damaged already. Today we were on the wrong side of the track, which doesn't help. But there is nothing we can do now and for sure it is bitter, and it's a pity we couldn't show our pace today; but we have other races ahead of us and I am sure there will be more opportunities for us", the Ferrari driver explained.
It was a day to forget in Singapore for Sebastian Vettel after he crashed on Lap 1#SingaporeGP #F1NightRace pic.twitter.com/rJDl6aRgKT

— Formula 1 (@F1) September 17, 2017
His teammate Raikkonen thought that there was no point to blame anyone, although in his statement he used the phrase "I got hit"
"At the start I had a very good jump, then I got hit; that was the end of our race. I don't think I could have really done anything differently to avoid it, apart from doing a bad start and not being there. It's a pity, one of those things you pay a big price for. Whatever the cause or the issue, it doesn't change the end result unfortunately. We go to the next races ready to fight and do our best", Kimi commented.
The Ferrari team blamed Verstappen for the whole situation
"VER took #Kimi7 out and then he went to #Seb5", was their message in Twitter. Later there was another tweet, saying that "was a factual description of events".
The other camp clearly disagreed with that point of view
Red Bull's team principal Christian Horner was adamant that anyone blaming Verstappen for the situation should have their eyes checked.
"How on earth you can work that out from watching that I've got no idea. You can see Sebastian comes quite aggressively left, Kimi goes to the right and Max, he can't disappear. He held a straight line and just desperately unlucky for him to be eliminated like that", Horner told Sky Sports before the crash investigation was over.
"You see Seb moving over to the left, squeezing, squeezing. You can't just disappear. It's racing, it's one of those things when you've got three cars going into a corner like that. But Max certainly couldn't just disappear. I think he probably couldn't see there was Kimi the other side of Max. I think anybody who tries to apportion blame on Max Verstappen for that needs their eyes testing."
Verstappen himself admitted he was pleased all of them retired
"My start was a little bit better than Seb and I think he saw that so he tried to move to the left to squeeze me out of the line a bit but he did not know Kimi was on my other side. I think it wasn't the smartest move and you can't make excuses for it when you are fighting for a world championship", he said.
"Kimi had a great start and was alongside me very quickly, I didn't try and defend that as I knew it would be a long race, he then started to squeeze me also, at which point there wasn't a lot I could do. The rear wheels are wider than the front so I was locked in the sandwich with no way out, even when I braked. If I made a mistake myself I would be upset or angry but there was nothing I could do today."
"We all lost out in the end so we all experienced some pain rather than someone making a mistake and then being able to carry on. We have to take the positives from the weekend, we were quick in qualifying and the practice sessions with good potential going into the race, we can hold onto this and move on to the next race."
"I don't think it was a racing incident"

No doubt for @Max33Verstappen who was to blame on Lap 1 ?#SingaporeGP ?? pic.twitter.com/Snm8UGlVrs

— Formula 1 (@F1) September 17, 2017
In the end the stewards exonerated all three drivers. They stated that "no driver was found to have been wholly or predominantly to blame for the incident and will therefore take no further action."