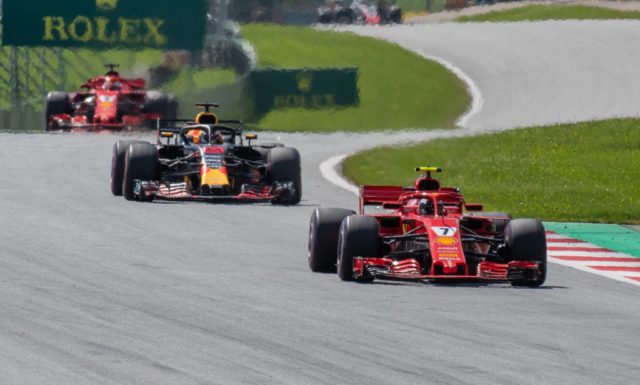 Kimi Raikkonen says he and Max Verstappen did well not to crash during their wheel-banging tussle on the opening lap of the Austrian Grand Prix. Raikkonen had challenged the two Mercedes cars for the lead into Turn 1, but was soon back down to third and came under attack from Verstappen after exiting Turn 6.
"There was a lot happening in the first lap and I got a little bit sideways, lost the line a little bit into six and Max was very close into seven," Raikkonen recalled.
"The car in front of me [Valtteri Bottas] disturbed me a bit [into Turn 6], and [Verstappen] got the run, I tried to hang on the outside. I got a bit sideways because we touched a little bit and lost the place.
"We did the best out of it, not taking each other out and fighting through that kind of corner, it's not easy to stay next to each other when you try [that]. That's what happens sometimes, it wasn't ideal for me but it was fair enough."
Asked whether he could have won the race with a few more laps, Raikkonen said: "Sure, it was possible, but this is the laps that we have in the race.
"Basically, I think we had good speed, especially in the end. A little bit tricky on the first part in the second stint, and then once the tyre started to do the work, [it] was good.
"It's disappointing – [but] obviously it's great for the team, a lot of points against the team that we race in the championship [Mercedes], they had a pretty awful day.
"In that side it's good but obviously we want to win. And we had this speed in the end, but it didn't happen today."
Sebastian Vettel, who finished 3rd. says his Sunday afternoon in Austria was "damage limitiation" and he did that rather well as he's leaves the Red Bull Ring as the championship leader. Vettel qualified third for Sunday's race but started P6 after a penalty for blocking a rival during qualifying.
"We were chasing Max down at the end but couldn't quite make it. Obviously it would have been nice to start further up. I tried to come back at the start at Turn 1 but it dind't quite work. "I was left with no place to go and lost momentum. Same thing at Turn 3.
"I had to fight with theh Renault and the Haas at the beginning of the race and lost a bit of ground. It was pretty much damage limitiation but the pace was very good as was the tyre management so a positive day. Could have been better but a well deserved win for Max."