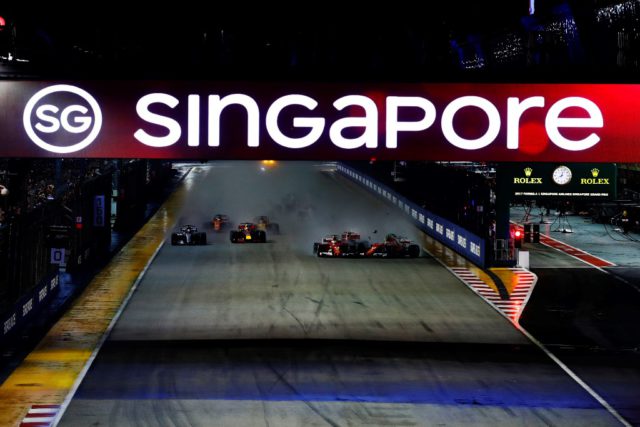 Lewis Hamilton took an expected victory in the Singapore Grand prix after the Ferrari drivers Sebastian Vettel and Kimi Raikkonen and Max Verstappen (Red Bull) collided after the start and retired. Daniel Ricciardo overcame a gearbox problem to finish second. Valtteri Bottas with the second Mercedes was third.
Lewis Hamilton
"What a day – I can't believe it, I'm so happy! I came in today and I saw that I was raining and I knew that this balances everything out. I love racing in the rain, then everything unfolded in the beginning. Starting on the Intermediates I thought it was going to be much closer pace-wise. These conditions give you the opportunity to really make a difference with your driving. It was the first time for all of us driving here in the rain, so it was a massive challenge."
"But I love that when you have to rise to the toughest of challenges, that's the most exciting part for me. Then it was all about staying focused and not making any mistakes. We came to a track that was potentially our weakest circuit and we leave with a win like this and so many points – that's a very fortunate scenario for us. Valtteri also did a great job, so to have all these constructors' points is awesome.
The secret of success at a dramatic #SingaporeGP?

"A miracle" always helps ? #F1NightRace ?? pic.twitter.com/moQ5oXzBcz

— Formula 1 (@F1) September 17, 2017
Daniel Ricciardo
"The rain made it all pretty hectic today. Everyone was in the same boat though and we hadn't driven in the wet here before so it's all about switching on early, being aware of the situation and trying to adapt as quick as you can. My start was quite slow off the line. In hindsight probably a good thing, because it allowed the chaos to unfold in front of me."
"Then in the first few laps I felt we were okay in the wet but then I felt we were a bit harsh on the tyres. Even when we pitted and had fresher tyres, we couldn't really make an impact on Lewis. The team was asking me to manage the gears through the race and after I learned we had a leak and were losing oil pressure in the gearbox from early on. Of course I came here to win and really wanted it, but second place is great and I'm not going to complain about it."
Valtteri Bottas
"Today shows that anything is possible – that is racing! I think under normal circumstances it would have been extremely difficult for us to be on the podium. But today, everything really came to us, and we got very lucky. In the dry, the car was performing better than expected and the pace was very good for Lewis and me; in the wet, I struggled a bit more than him. It's nice to bring a trophy home after what has been a tricky weekend for me. But all in all it was a nearly perfect race for us as a team. There are still six races to go so everything is still wide open. We have been struggling quite a bit this weekend, so we need to make sure we learn from it for the future."
INITIAL CLASSIFICATION (END OF RACE): The perfect race for @LewisHamilton ? #SingaporeGP ?? #F1 pic.twitter.com/61aogM2dS4

— Formula 1 (@F1) September 17, 2017