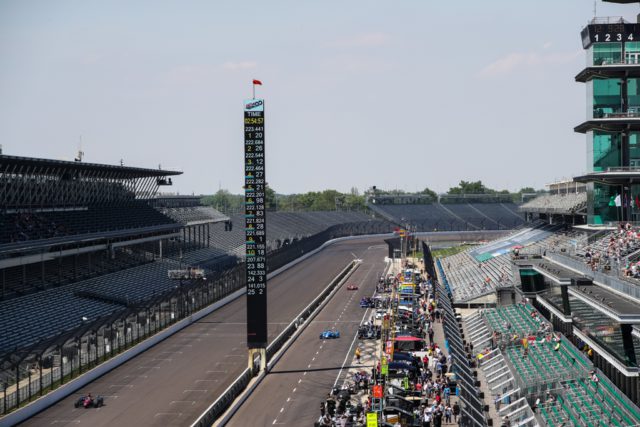 Race weekend: Friday, May 26 – Sunday, May 28
Track: Indianapolis Motor Speedway, a 2.5-mile oval
Race distance: 200 laps / 500 miles
Starting lineup: Indianapolis 500
Firestone tire allotment: Thirty-six sets for use throughout the month
2016 race winner: Alexander Rossi
2017 Verizon P1 Award winner: Scott Dixon. Lap time –  2:35.0603, 232.164 mph
Indianapolis 500 Race notes
The Indianapolis 500 will be the 101st 500-mile Indy car race at the Indianapolis Motor Speedway's oval. Ray Harroun won the inaugural race in 1911. Alexander Rossi took victory in 2016. Rossi became the first rookie winner of the race since 2001.
There are five different winners in five Verizon IndyCar Series races in 2017. Sebastien Bourdais (Streets of St. Petersburg), James Hinchcliffe (Streets of Long Beach), Josef Newgarden (Barber Motorsports Park), Simon Pagenaud (Phoenix Raceway) and Will Power (IMS road course) have won races in 2017. Since 2012, the IndyCar Series averaged 8.75 different race winners per season, including a record-tying 11 winners in 2014.
Scott Dixon stopped a streak of pole winners from Team Penske in 2017 by winning the Verizon P1 Award for the Indianapolis 500. Dixon's speed was the fastest pole speed at Indianapolis Motor Speedway since 1996. Team Penske's Helio Castroneves (Phoenix and Long Beach) and Will Power (St. Petersburg, Barber, IMS road course) had earned every Verizon P1 Awards through qualifying.
Seven drivers entered have won at Indianapolis Motor Speedway
Helio Castroneves has won the race three times (2001, 2002 and 2009), while Team Penske teammate Juan Pablo Montoya has won the race twice (2000 and 2015). Buddy Lazier (1996), Scott Dixon (2008), Tony Kanaan (2013), Ryan Hunter-Reay (2014) and Alexander Rossi (2016) are the other former winners entered.
Tony Kanaan has finished in the top four in four of the last six Indianapolis 500s, including his win in 2013.
Juan Pablo Montoya has finished in top five in three of his four Indianapolis 500 starts.


Four drivers will race Verizon IndyCar Series cars on the Indianapolis Motor Speedway oval for the first time: Fernando Alonso, Jack Harvey, Ed Jones and Zach Veach. Alonso and Harvey will be making their series debut
20 drivers have won the race from the pole. Most recently – Helio Castroneves in 2009.
Team Penske has 16 wins at Indianapolis Motor Speedway. This is the most of any team.  Chip Ganassi Racing has 4 victories. Andretti Autosport also has four, while A.J. Foyt Enterprises has 2.
Two drivers have a chance to become the first to win on both the Indianapolis road course and the oval. Simon Pagenaud and Will Power have road course wins.
Pippa Mann is the only female driver in the field. It marks the 18th consecutive Indy 500 that a female has qualified for the race
Tony Kanaan seeks to start his 271st consecutive race this weekend, which would extend his Indy car record streak that began in June 2001 at Portland. Teammate Scott Dixon has made 212 consecutive starts heading into the weekend which is the second-longest streak in Indy car racing.
Helio Castroneves will attempt to make his 333rd career Indy car start, which ranks fourth on the all-time list. Tony Kanaan will attempt to make his 332nd Indy car start, which is fifth all-time. Both are competing in their 20th season of Indy car.
.@OriolServia had a successful #INDY500 media day in Miami. And also met former Barcelona player Hristo Stoichkov! pic.twitter.com/Hjh6LDKW7H

— RLL Racing (@RLLracing) May 23, 2017
The event, billed as The Greatest Spectacle in Racing, is considered part of the Triple Crown of Motorsport
It comprises three of the most prestigious motorsports events in the world and includes the Monaco Grand prix and the 24 Hours of Le Mans. The official attendance is not disclosed by Speedway management. The permanent seating capacity is upwards of 250 000, and infield patrons raise the race-day attendance to approximately 300 000.
The race celebrated its 100th anniversary in 2011. The 100th running was held in 2016. The most successful drivers are A.J. Foyt, Al Unser, and Rick Mears. Each of them won the race four times. The active driver with the most victories is Helio Castroneves, with three. Rick Mears holds the record for most career pole positions with six. The most successful car owner is Roger Penske, owner of Team Penske, which has 16 total wins and 17 poles.