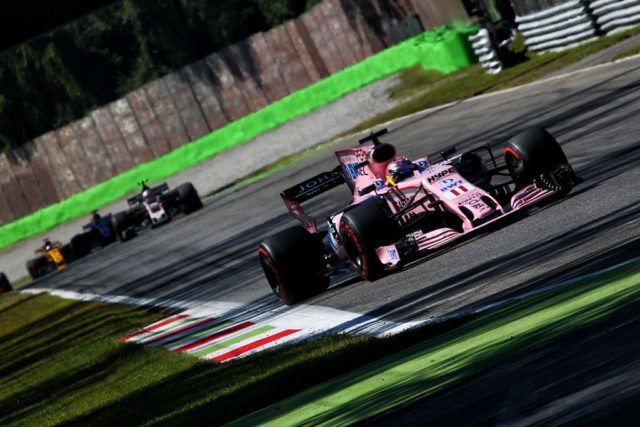 Sergio Perez has taken points from all the races he did in Singapore. Now the Force India driver hopes to extend that record.
"Singapore is definitely one of the toughest races in the season. It's so hot and humid; a real test for the driver, but I am well prepared for racing in the heat. Sometimes you feel really uncomfortable in the car and you just want the race to be over as soon as possible. It's hard to breathe, you are sweating a lot and the sweat goes in your eyes! But it's still a special night and one of the best races of the year", Perez said.
"I have been in the points every time I have raced in Singapore and I hope I can extend my record. It's hard to single out a specific corner in Marina Bay because I really like them all. I love street circuits in general and this is a special lap. There's no room for error – the wall is always next to you; one mistake and you're out."
"Our objective is obviously to score points in Singapore and in all the races to follow. The season may be nearing an end, but there are still some very important races ahead of us and we want to make sure we do our best to stay fourth in the championship."
Sergio Perez: "There's no room for error – the wall is always next to you; one mistake and you're out"
Esteban Ocon on his side thinks that there is something special in Singapore.
"You race under the lights and the atmosphere is unique: it feels really glamorous and all the fans and guests are partying through the night during the race. On the other hand, it's very hard physically. It's hot and very humid, and you lose a lot of fluids when driving. It's one of those places where everything needs to be perfect in the car because you'll struggle a lot if you're not in the right position or there is something wrong with the seat. You try to prepare as best as you can for days like these; you train in hot places and try to maximise the performance of your body", the French driver commented.
"The weird schedule doesn't affect me. I like that we stick to European times: we wake up late, the days are shorter and you're able to sleep a lot. It's my favourite weekend schedule – I am someone who sleeps a lot and in Singapore, I can get my 12 hours per night!"
"The lap has some really interesting sections. For a street circuit, it's very fast, but my favourite part is the twisty part in the middle of the lap, where you're so close to the wall all the time. There are a lot of beautiful buildings next to the track and when they are all lit up at night the place looks very beautiful."
11,600km later… hello, Singapore! ?? pic.twitter.com/6euarx1gs3

— Sahara Force India (@ForceIndiaF1) September 13, 2017