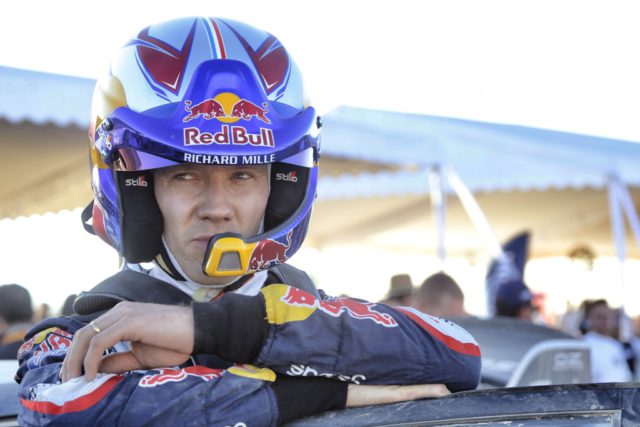 M-Sport Ford World Rally Team's EcoBoost-powered Ford Fiesta WRCs is ready for a dual-surface duel at the only mixed surface event of the year RallyRACC Catalunya – Rally de España. The battle for the crown in this year's FIA World Rally Champion could not be closer. Three crews will be going head-to-head on both gravel and asphalt. Seven points is currently all that separates Sébastien Ogier and Julien Ingrassia from retaining their crown.
"The championship fight could not be closer as we head to Spain. It's been a long time since we had a battle this intense. And I know that the whole team will be working their absolute hardest to ensure Sébastien and Julien have everything they need to push for a sixth world title", Team Principal Malcolm Wilson said.
"With three Spanish victories to their name, they certainly know what it takes to master the mixed terrain and I'm confident that we have a strong package for both surfaces. It's going to be such an exciting weekend, and I'm looking forward to seeing how it unfolds.
"Elfyn [Evans] and Teemu [Suninen] are also capable of fighting for the top results, and I'm keen to see what they can do as the season draws to a close.
"Luck has most definitely not been on Elfyn's side this year, but the speed is there and I know he'll want to bring the season to a close with some strong results. Teemu too will want to showcase everything he's learnt on what will be the last familiar event of the year for him."
Sébastien Ogier and Julien Ingrassia will be hunting another strong result
Victory at the previous round saw the pairing close in on the championship lead, and they'll be looking for further gains at an event they have won on three previous occasions.
"We go to Spain on a high after securing victory in Wales, and reducing the gap at the head of the championship standings to seven points. With just two events left to contest, the title race is really hotting up, and we'll need to deliver another strong result if we want to defend our crown", Ogier explained.
"The competition is really exciting and I'm looking forward to this event which I enjoy a lot. The dual surface element of this rally makes it a unique fixture on the calendar and you need to adapt quickly to each change in terrain.
"The support we get in Salou every year also provides extra motivation and everyone can count on Julien and I giving everything to bring home another strong result for the championship."
Here we go, it's shakedown time in Salou! @MSportLtd @RallyRACC #WRC pic.twitter.com/WyURmouCIL

— Sébastien Ogier (@SebOgier) October 25, 2018