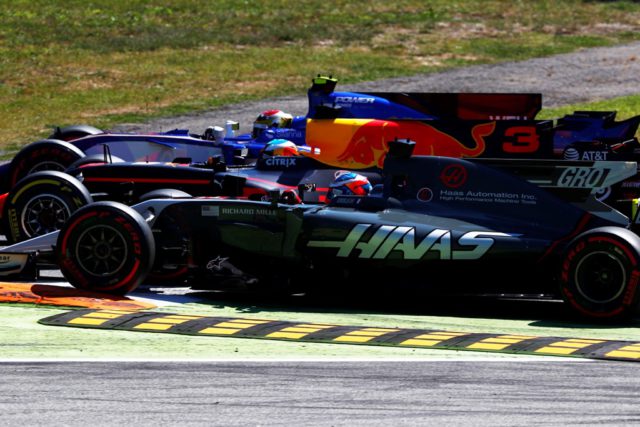 Singapore is the first race from the 2017 Formula 1 Asian stint. Guenther Steiner reviews Haas' performance in the last two race in Belgium and Italy and looks ahead to the night round on the calendar.
The past two grands prix have been at high-speed circuits where teams opt for minimal downforce. Belgium seemed to work out well for the team, but that wasn't the case in Italy. Despite having to qualify in the wet on Saturday, what made these two high-speed tracks provide such different outcomes?
"I think the outcome was not so different. In Monza, Kevin Magnussen's race pace was very good. Obviously, Romain Grosjean starting last, then hitting somebody at the start and coming in on lap two to change the front wing, the race was gone. It's very difficult to compete because you're so far back, but Kevin finished 11th. Five teams finished in front of us. We were the sixth-fastest car. If one or two had dropped out, we would again have been in the points. So, it wasn't a fantastic week for us in Monza."
"Spa was better. The car was in a similar performance level between the two races. It's just like Spa, with a few dropouts, maybe it was better, and some of our main opponents being a little bit worse there put us into the points. All in all, for the development we are doing on the high-speed version of the car, it's very small and we had a decent result. I would say we were a little bit better in Spa than we were in Monza, but otherwise we weren't too far apart. It looked worse than it actually was."
Now you head to a street circuit where downforce is much more necessary. Is the Singapore Grand Prix a venue that suits the Haas VF-17 better than the high-speed tracks?
"It's not only about downforce levels, it's also about how to use the tire and which level of downforce we need to run. As always this year, it's not only about how good we are, it's how good our opponents are and how they can get their cars to work at the circuits. We always see where we end up with our other opponents in the midfield."
Using the tire properly means finding its optimum operating window. With Pirelli bringing the Yellow soft, Red supersoft and Purple ultrasoft tire to Singapore, what are your expectations?
"I would say in qualifying that the softest tire was always the fastest tire – even if the drivers don't feel a big difference. A harder tire has never been faster. In the race, it's more about race distance, what you can do, and how quick they drop off and the time you lose. Normally the softest tire for the race weekend is always the fastest tire. I think this trend will continue in Singapore."
Singapore is one of only three night races on the Formula One schedule, but it's also the original night race. Do you like competing at night?
"I think a street race and a night race are just cool. I quite like it. It's something different. Singapore is a great city. The nice thing about doing it at night is that it cools down a little bit, as during the day it's really hot. If they were all night races, maybe I wouldn't like it, but a few in the year is very good."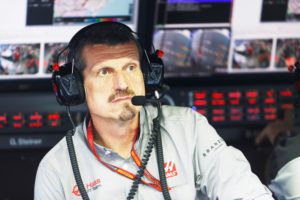 With Formula One's slate of European races over, use of the team's transporters and hospitality unit is also over. How helpful is it to have all that equipment at the track on a consistent basis, and how hard is it to transition back to flyaway races?
"It's nice to have your own equipment with you. You know where you are going and don't have to change every weekend, but then again, it's just part of our job to always deal with what we are given. All of the supplies we take to flyaways we ship in sea containers, so it's all of our stuff. It's just in a different building and it needs to be set up. Our trucks and hospitality unit will be serviced and repaired and they'll come back out in the springtime."
Singapore has become a destination venue for Formula One. What makes it such a desirable event?
"It's a race in a big city – a cool city – and it's a night race. There are some cool elements for people to do when they go there. There's lots of nightlife and you can stay in the city and walk to the racetrack."
Singapore spurred more night races in Formula One just as Bristol (Tenn.) Motor Speedway spurred more night races in NASCAR. You've been to both. Can you compare the two? Are there any similarities?
"I would say a night race is always exciting and I think if all the races were night races, it wouldn't be as interesting. With NASCAR and Formula One night races, you have the whole day to build up to it. It's just cool."
The schedule at Singapore seems to be very smartly laid out. Practice and qualifying is at roughly the same time as the race, providing consistent data for the teams. And fans across the globe get consistent TV times to watch all the coverage, as the times are the same as they've been for all of the European races. As a competitor but also as a stakeholder, can you describe how beneficial this is for Formula One?
"Consistent TV times are good because fans know when to tune in. That's very difficult to do with a global sport, so this schedule is good from that perspective. It's also a good thing for the teams because they will sleep during the day and work at night, and not be jet lagged."
Can you describe the atmosphere generated by a night race? Is there a heightened sense of excitement and anticipation because the Singapore Grand Prix is so visually stimulating?
"The adrenaline is higher when the atmosphere around the track is cool. The spectators have the whole day to get ready and get excited, and for us it's just cool."
Preparation is ?.

Here's everything you need to know for the #SingaporeGP! pic.twitter.com/95nnF6TlPK

— Haas F1 Team (@HaasF1Team) September 10, 2017