For half a decade, almost everything in the lives of the Porsche LMP Team members revolved around the Porsche 919 Hybrid and the company's successful return to the top category at the 24 Hours of Le Mans. On November 18, the most advanced hybrid racing car of its time took to the track for the last time in the FIA World Endurance Championship (WEC). Representing the team, behind closed garage doors, Fritz Enzinger, Vice President LMP1 and Team Principal Andreas Seidl are looking back over an era.
How did you feel when the two Porsche 919 Hybrids crossed the finish line for the final time?
Fritz Enzinger: "It was a feeling of sadness on the one hand. On the other hand, I felt a great sense of relief that the project was so successful."
Andreas Seidl: "As a team, we have stuck together through thick and thin over the years. This last run-out in competitive conditions was indeed depressing; yet at the same time, I felt a deep gratitude. Gratitude for the fact that I have been able to be part of this chapter of Porsche motorsport history, for the successes and, above all, for the fact that we got through four years without any accidents that resulted in injuries."
Do you still remember your expectations when you first started in this role?
FE: "Above all, I remember the expectations that were placed on the project. Everybody assumed that the 17th overall victory in Le Mans was a certainty. This sense of conviction was astounding because Porsche had not been in the top class in Le Mans since 1998. There was neither infrastructure nor experience at the level of the new LMP1 hybrid class. After all, we had to build a Formula 1 racing car with a roof."
AS: "When I started, I was not fully aware of quite how significant this project was for Porsche, in terms of the identity of the workforce and the expectations inside and outside of Porsche. For me, before starting in this role, the Porsche LMP was another very interesting motorsport project that I wanted to make successful. I had not really an idea what it meant to represent Porsche at Le Mans and compete for the overall victory. I was a sprint racing junkie. This changed quickly. I saw the unique opportunity to be able to build up a racing team from scratch and had the goal of winning races. First and foremost, at Le Mans."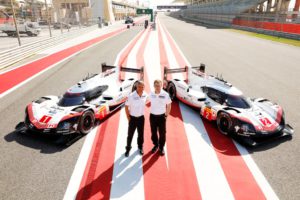 How did you deal with the pressure?
FE: "The first few months were difficult. I joined the company, coming from extern, in 2011 during a miserable November when the rain was constant. I worked 14-hour days, fought on all fronts. In this project, there was never a single first step. Everything had to happen in parallel. Construction discussions, meetings on regulations, staff meetings, finance and technology – the schedule was extremely tight, and the time passed incredibly quickly. Of course, there were also days when self-doubt crept in. I did not just walk casually into this role, thinking, 'right, I'll just manage that'. Building something so great from scratch was not just a first for Porsche. From the rest of the automotive industry, I know only of examples where existing structures have been expanded. But I never allowed myself any thoughts of failure."
AS: "For me, optimum preparation takes away a certain degree of pressure, and helps me to manage the rest. As a team, we did everything possible to ensure that we were prepared as well as we could be for our races. We went through all of the scenarios that can occur on a race weekend again and again. We marked out our Road to Le Mans and planned precisely what we wanted to test, when and where we wanted to test it, and how we would make use of our personnel."
"But even the best possible preparation does not remove that pressure that builds up before Le Mans and reaches its peak on the Saturday afternoon before the start. In my position, it was important to give off a sense of calm, despite the internal pressure. I had to show the team we had done everything we could, we were well prepared, and now we were going to do what we came here to do."
What were the three most important decisions at the start of the programme?
FE: "There is only one decision that stands out for me. That was the creation of a separate main department for the LMP programme, which reported directly to the Executive Board. This set-up gave us the level of flexibility that we needed."
AS: "Yes, the streamlined and independent structure was very important. Secondly, it was crucial to have our own factory team in Weissach and not just to position development there. The third decision that I believe was vital was the philosophy that was also held by the Executive Board of adopting a very aggressive and uncompromising approach in terms of the vehicle concept, in order to exploit the maximum potential allowed by the rules."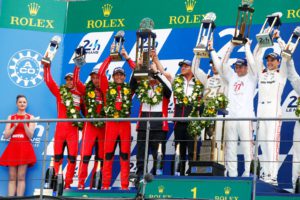 What was your personal highlight in the years gone by?
FE: "That was when Dr Wolfgang Porsche put his hands on my shoulders after the first overall victory in 2015 and said: 'Now things are back to how they used to be at Porsche.' Being involved in one of the most successful times at Porsche has meant a lot to me. That first Le Mans victory was definitely the best, because of how convincingly we won. We were only in our second season and were performing with such superiority. The second and third victories involved special circumstances. On those occasions, I had already somewhat resigned myself to the fact that it might not be our time."
AS: "It was definitely the 24 hours in 2015 for me as well. In terms of the preparation and the two weeks at Le Mans, this was the biggest operation that I had ever been involved in, and this time I was leading it. The deployment of these three cars and the coordination of the entire team in the race was beyond anything I had done before. To have three cars complete the race without technical problems, achieve a one-two victory and become the benchmark in terms of pit stops by one's own efforts – it was close to perfection and just how I pictured a race should be. It was also the unique moment when we as a team achieved this long-desired overall victory for Porsche. We had fought hard for that and managed to meet the expectations."
In your opinion, what was the most critical phase of the programme?
FE: "It was never really critical in my eyes, but I still remember our fourth race very well. It didn't go well in Austin in 2014. We were not fast enough, there was a downpour and, most importantly, a loss of power in one car, so we did not get a place on the podium. At that point, I understood that Porsche did not have much practice in lagging behind expectations. But in the end, we were all able to carry forward our development philosophy together: In cases of doubt, we always opted for the more aggressive approach with the goal of making the 919 quick first of all and stable in the end. If the car finishes a race the first time, then it is also capable of winning – this was our credo."
AS: "For me, the most critical time was definitely the test phase before our first race. We had lots of technical problems and the pressure was really on. We were a team that had recently been thrown together and had to start by getting our personal relationships on the same page. The team structure had to evolve alongside the development of a highly complex vehicle. We had zero reference material about how and what we were doing would position us in relation to the competition."
"There was a certain amount of unrest within Porsche because we had no results to report"
"Some information was leaked and there were stories about how bad the outlook was for us. Overcoming this 'they'll never do it' attitude as a team was difficult. We also lost people along the way, who no longer believed in our mission. But getting through it all together made us even closer later on. This was where the foundations were laid, and thankfully those in key roles stayed with us."
#WEC – Goodbye #Bahrain, goodbye @FIAWEC 2017. It has been a great race and a great season. Looking forward to the super season 2018/19. @Porsche @PorscheNewsroom @MichelinTyres @Mobil1 @adidasmotosport pic.twitter.com/1LBpSulzsz

— Porsche Motorsport (@PorscheRaces) November 19, 2017