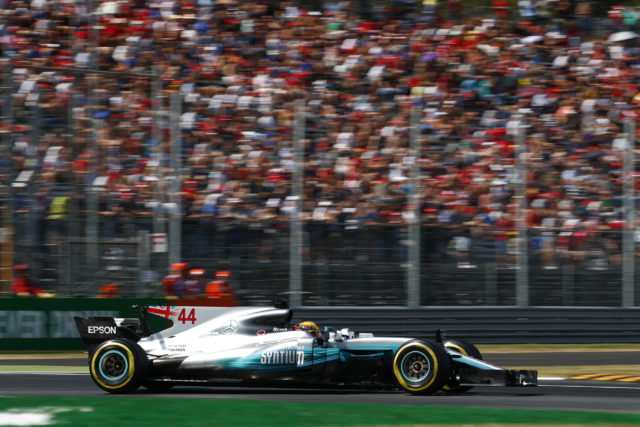 Lewis Hamilton captured the lead of the championship as Mercedes crushed Ferrari at the Italian Grand Prix, leading home team-mate Valtteri Bottas for a 1-2.
Hamilton only relinquished the lead during the pit-stop phase. He triumphed for the sixth time this season, beating Bottas by 4.4 seconds. He became the first driver to win successive races in 2017.
Vettel, meanwhile, claimed a podium finish. He was 36 seconds down on Hamilton with complaints of a problem during the final stint. Hamilton now leads the standings by three points from Vettel.
Hamilton preserved his track position at the start as Force India's Esteban Ocon moved into second, ahead of Williams' Lance Stroll, while Bottas battled compatriot Kimi Räikkönen for fifth.
As Hamilton stretched his advantage, Bottas swiftly overhauled Räikkönen, having lost ground through the opening corners, before cruising past Stroll and Ocon in quick succession, moving into second.
Mercedes drivers lapped line astern for the remainder of proceedings. Hamilton only briefly lost the lead through virtue of pitting one lap earlier than Bottas. Both ran a Super Soft/Soft strategy.
Vettel passed Räikkönen and quickly cleared the Williams and Force India youngsters. From there, Vettel gradually slipped further adrift. And he ultimately came home half a minute behind Hamilton, commenting on the slow-down lap that "after I went off, something was wrong".
Red Bull's Daniel Ricciardo took a fine fourth from 16th on the grid as he ran the alternative strategy, starting on Softs before making a late stop onto Super Softs. Ricciardo picked his way past rivals and emerged from the pit-stops in fifth spot.
He surged up to the rear of Räikkönen and completed a move into the Rettifilo chicane from some way back, but while he ate away at the 10-second gap to Vettel, the Ferrari driver had enough in hand.
Räikkönen took fifth. He complained of rear-end problems during the first stint. Ocon finished sixth. He resisted initial pressure from Stroll.
Stroll, who slipped behind Räikkönen due to a slow stop, defended from Williams team-mate Felipe Massa on the final lap to preserve seventh, while Sergio Pérez claimed ninth.
Max Verstappen surged up the order during the opening stages, having started from 13th place, but picked up a puncture while battling with Massa through the Rettifilo chicane.
Verstappen, who dropped to last, was thus forced onto a two-stop strategy, and eventually worked his way back into the top 10, taking the final point on offer.
Kevin Magnussen finished in 11th place for Haas. He complained of being pushed wide by Verstappen at the Roggia chicane, but stewards opted against opening an investigation.
Toro Rosso pair Daniil Kvyat and Carlos Sainz Jr. had a quiet race, taking 12th and 14th respectively. They were in front and behind Nico Hülkenberg.
Grosjean later had a close moment with Verstappen at the same spot. And he expressed his frustration, pitting once more and trailing home in 15th place.
Fernando Alonso spent the bulk of the race towards the back of the field. And he repeatedly complained over the team radio after Jolyon Palmer cut the second chicane to move ahead.
Alonso labelled the five-second time penalty Palmer "a joke". And he described it as "karma" when the Briton was forced to retire.
Alonso himself pulled into the pits, with two laps to go, following a request from McLaren. While team-mate Stoffel Vandoorne also failed to reach the chequered flag due to a loss of power.