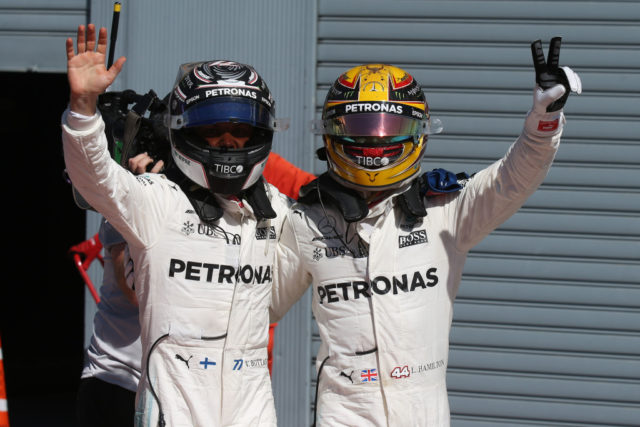 Lewis Hamilton took his 59th win in Formula 1 at the Monza circuit, while his teammate Valtteri Bottas made it a double victory for the Mercedes team. Both drivers expressed delight with that result.
"This is obviously an incredibly exciting season", Lewis Hamilton said.
"The last two races have been really strong for us as a team. The way things have come together in the second half of the season is exceptional."
"The car felt fantastic, particularly on that first stint. As we had a bit of breathing room behind us, it was easier for us to extend the life of the tyres. Valtteri did a fantastic job to get through and get this one-two.
"It is amazing to have the first back-to-back wins in a long, long time and claim the lead in the championship. But the fight will continue, the Ferraris have been really quick this season, especially on the high-downforce tracks. It will continue to be really close between us, so it will be 'beast mode' all the way to the last chequered flag."
Hamilton: "This is obviously an incredibly exciting season"
"Starting fourth, finishing second – I'm quite happy with that", Bottas added.
"What I'm really happy about is the one-two for the team! From my side, it was a good race, even though I lost one position at the beginning. Luckily, I got it back quite quickly and could then overtake the Williams and the Force India. After that the pace was great and I was really enjoying it – the car war so strong today."
"It was amazing to be on the podium. Monza is definitely one of the best – if not the best – podiums in Formula 1. It's such a great atmosphere, so much noise, so many people – I wish everyone could experience it. Looking forward, we know that we still have a lot of work to do, the races ahead will be a close battle with Ferrari.
.@LewisHamilton deals with a bit of good-natured grief from the home crowd…#ItalianGP ?? pic.twitter.com/R8QfLFqoJA

— Formula 1 (@F1) September 3, 2017