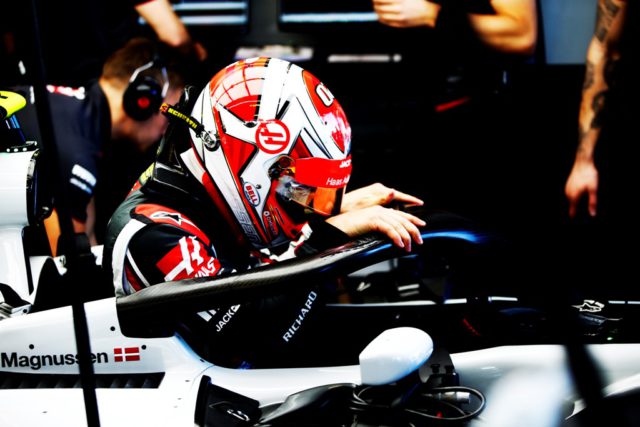 Romain Grosjean calls Suzuka his "most favourite track in the world" and his Haas teammate Kevin Magnussen terms it "a driver's track". The duo scored Haas F1 Team's second double-points result in last year's Japanese Grand Prix, with Magnussen finishing eighth and Grosjean right behind in ninth. It was Magnussen's best finish in three career Formula One starts at Suzuka and Grosjean's third top-10 effort at the track, a history highlighted by his performance in the 2013 Japanese Grand Prix where Grosjean led 26 laps before finishing third behind the dominant Red Bulls of Sebastian Vettel and Mark Webber.
Haas F1 Team confirmed its driver lineup before the Russian Grand Prix, with you and Grosjean returning for another season. How helpful is it to have your future set and not a distraction as you battle for fourth in the constructors' standings?
"It's just nice to know I have a few more years here with Haas F1 Team. I'm looking forward to that challenge and continuing the relationship that we've built over the last two years."
Haas F1 Team has made great strides from last year to this year. How much of that is attributable to having a consistent driver lineup, and do you expect that to deliver continued dividends in 2019?
"I hope that Romain and I can continue our work together and help the team move even further forward. Hopefully, we can achieve greater success year by year."
After two straight races where the softest tire in Pirelli's lineup was used – the Pink hypersoft – we're back to a more traditional White medium, Yellow soft and Red supersoft tire combination. After struggling to sort how much longevity you could get from a set of hypersofts, is it advantageous to get back to a tire lineup you know well where each tire compound is only a step away from one another in terms of grip level?
"I don't think it's something we really pay that much attention to. I mean, we obviously pay attention to getting the tires working, but there's not one compound that is harder or easier than the other, so it doesn't really matter for us."
Is tire management more of a factor at Suzuka than it was at Sochi because the surface is more abrasive? If so, how do you manage your tires at Suzuka?
"It's not really any worse because we've got harder tires, so that compensates for that. Of course, when you've got that jump in compound as in the previous races, that qualifying tire may not be very good for the race. There might be an advantage to qualifying on one of the harder compounds, which in Suzuka won't be an issue. That's the biggest difference."
Many drivers claim Suzuka as their favourite track in Formula One. Are you one of them?
"I'm definitely one of them. It's just a great circuit. It's extremely fast, and you have the section in sector one with all the esses – that feels amazing going through there in a Formula One car. You have the fastest corner in the world, as well in 130R."
Would you call Suzuka a driver's track?
"Absolutely. It's a real driver's track with high-speed corners where you need to really push the car."
Can the driver make more of a difference at Suzuka than at some other tracks?
"I mean, a little bit more, but Formula One doesn't work like that anymore. We're all going pretty much to the limit of the cars."
Where are the overtaking opportunities at Suzuka?
"It's not the easiest track to overtake. I guess turn one is a good one – probably the best one."
What is your favourite part about Suzuka?
"Probably the first sector."
Describe a lap around Suzuka.
"It's twisty and quite tight and fast."
Beyond the racetrack, what is most often talked about at Suzuka is the passion its fans have. Can you describe the atmosphere at the track and the fervency Japanese fans have for Formula One?
"It's a great atmosphere there. The Japanese fans are amazing. They really get into it."
Japan has some fantastic and unique cuisine. What is your favourite?
"I love sushi."
When you leave Japan you'll be gearing up for Haas F1 Team's home race – the United States Grand Prix in Austin, Texas. Where do you want Haas F1 Team to be heading into that event?
"I want us to be as far forward as possible. It's a really cool race and I love being in America. I'm going there straight from Japan to have a bit of time off in America and to drive around. It's definitely one of the highlights of the year. Being on an American team simply adds to the experience and makes it even more special."
Tap the ❤ if you're ready for the #JapaneseGP! @KevinMagnussen | @Haas_Automation pic.twitter.com/fwm69vgakH

— Haas F1 Team (@HaasF1Team) October 1, 2018