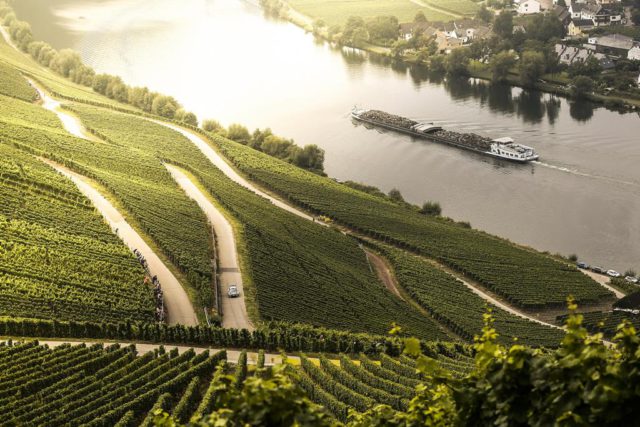 With slippery asphalt, changeable weather, a crazy mix of very varied stages, and around 1500 different types of sausage, Germany's round of the World Rally Championship is a classic. For the first time in recent history, two drivers – M-Sport's Sebastien Ogier and Hyundai's Thierry Neuville – are level on points at the top of the championship standings. It's winner takes all at Rallye Deutschland!
#RallyeDeutschland new service park in #Bostalsee is not looking massively tempting at the moment. More rain forecasted for the event. pic.twitter.com/BHQdTrejwM

— Teemu / Rallirinki (@HartusvuoriWRC) August 13, 2017
Five facts about Rallye Deutschland
Rallye Deutschland consists of a trio of former national rallies rolled into one, so the three days have distinct identities. Day one runs on twisty vineyard roads. The second day is in the Baumholder military area (which is famous for its car-breaking kerb stones, known as 'hinkelsteins'). And day three is on fast and sweeping stages close to the French border.
It helps to be called Sebastien: there have been 12 winners of Rallye Deutschland called 'Seb' – Loeb nine times (a record) and Ogier three times.
The last time a rally car that wasn't built in either France or Germany won Rallye Deutschland was back in 1999, courtesy of Armin Kremer. And home hero Kremer is back this year: in a Ford Fiesta RS WRC.
After many years in the Roman city of Trier, Rallye Deutschland's service park returns further south to the picturesque Bostalsee Lake not far from Saarbrucken. Its base was there when it first joined the WRC in 2002. Sunday's St Wendeler Land Power Stage finishes right next to the service park.
Andreas Mikkelsen returns to Citroen. He missed Finland, but the Norwegian gets behind the wheel of a C3 WRC again in Germany, with more refinements as the French squad fights to get back on top.
Mike is back!
Red Bull TV presenter Mike Chen spent a month of painful recuperation due to a knee injury in Poland. Now he is back in front of the cameras. He will be your guide – together with fellow WRC expert Matthew Wilson – to all the German action. There will be a live show on Saturday from the Romerstrasse stage, starting at 11:50am local time on redbull.tv/wrc or the mobile app. "I was determined to be back for Germany, as it's one of the most exciting rounds of the championship," says Mike. "Now, did I miss anything?"
Technology on the screen
As well as cutting-edge technology on the cars, there's some exciting new technology on Red Bull TV. Using real time data, Red Bull TV's 'live ghost' feature allows comparisons between two competitors racing on the same stage, so you can see at a glance who's faster, where, and how. Along with other innovations such as interactive stage maps, new technology brings the WRC action to life on TV like never before.
…time for some (asphalt) ground control ? #WRC ? #ADACRallyeDeutschland (17-20 August) @ADACRallye pic.twitter.com/17QtlB78Jf

— WRC (@OfficialWRC) August 13, 2017