Team Peugeot Total driver Sébastien Loeb went flat-out in the Peugeot 208 WRX to take victory in Belgium. The 9-time World Rally Champion demonstrated his skill and talent by racing to victory in both his semi-final and a nail-biting final. Loeb was joined on the podium by his teammate Timmy Hansen, who was 3rd overall. The strong result helps Peugeot move up to 2nd place in the World RX Teams' Standings with Loeb closing in on the Drivers' Championship lead.
Loeb secured good finishes in Q1 and Q2 on Saturday
He got into trouble in the challenging conditions of Q3 on Sunday morning, as he found himself in traffic with limited overtaking opportunities. He was then able to bounce back and eventually ended up 4th overall of qualifiers. The Frenchman delivered an impressive performance to win in semi-final 2 and claim pole position for the final. There, he continued his momentum, making the most of his 600-horsepower car in a hard-fought battle to take his 1st World RX final victory of 2018. This great result promotes him to 2nd position in the Driver's Championship.
Timmy Hansen made a flying start at Mettet with 3rd and 2nd positions in Q1 and Q2 respectively. On a roll, he scored the top spot in Q3, 7th in Q4, and ended up 2nd overall of the qualifiers. On pole position in semi-final 2, he got violently pushed at the start by Bakkerud and dropped to 6th in the first lap. This kick-started Hansen's heroic fight-back, with the 208 WRX ace storming through the field. His 3rd position finish was enough to put him into the final, where he again carved his way from 6th at the start to 3rd on the finish line – the 1st podium for him this season.
Kevin Hansen put on a great display of his talent throughout the weekend, delivering some promising performance and great times in Q1 (5th) and Q2 (6th)
He started Q3 in strong form – grabbing the holeshot with his distinctive yellow 208 WRX – and lead all the race, however a costly mistake on his joker in the final lap – he stalled the engine – meant he ended-up 15th. In 10th position in Q4, and overall 9th out of the qualifiers, he got his ticket for his 1st semi-final of the 2018 season. He started semi-final 1 from behind, and, even if he did not manage to get his seat to the final, he once again proved that he has what it takes to race within the best.
After 2 second places in Barcelona and Montalegre, this double Peugeot podium and Sebastien Loeb's win is a great reward for the team crew. Behind the scenes, mechanics and engineers have been working hard to launch this new competition programme in World RX, right after a stunning 3rd victory in a row on the Dakar Rally in January.
Bruno Famin, Peugeot Sport Director
"It's a good result and it is exactly what we are working for. Overall the weekend has been very interesting. All the main teams were very close and our drivers did a very good job to stand out. We saw that all the heats, the semi-final and the final had very intense fights, especially with the changing weather conditions on Sunday. We made good choices with the setup and the drivers have been able to find their way."
"It was very tough with all the incidents at the start of the semi-final and the final. I am very happy about the result because it shows the level of performance of the team. We have been working hard since the beginning of the season. It's great to see Peugeot winning at the 3rd race of the season: we are a bit ahead of our schedule, but this is good for the team."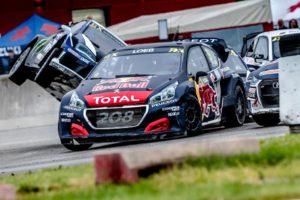 Sébastien Loeb
"It's my 2nd win ever in my World RX career, and the 1st one this season! We already had 2 podiums so far, so it's really great to keep up the momentum and now win here. It's a nice achievement and I'm really happy for all the team. They deserved it! To be able to bring them the 1st victory is a real pleasure. In the final, I thought that Mattias had already 'jokered' before and that I was fighting for 2nd. Then in the last corner, he took the joker and I won! I didn't expect it, so it was an incredible feeling."
"The track in Belgium is really challenging: you need to be very precise and even a little mistake is difficult to control. It's just so demanding every lap, every corner. To be honest, we didn't really know what to expect at the beginning of the season: what the level of all of the teams would be. We have had some small developments and finally, here we are in the game, and in the middle of an intense fight with all of the other manufacturers. It's really enjoyable to be able to be at the front."
? Team @Peugeot @TotalRacingENG drivers reactions after Round #3 of @FIAWorldRX @MettetRX ⬇️ – in ?? for @kevinhansen71 & @Timmy_Hansen & ?? for @SebastienLoeb! pic.twitter.com/0kn9cWDL7w

— Peugeot Sport (@peugeotsport) May 13, 2018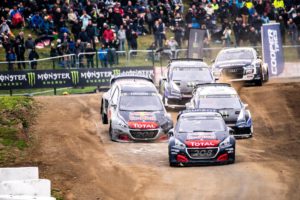 Timmy Hansen
"Obviously when you start on pole you're not expecting to see yourself last, and when I had a spin in Turn 1 in the semi-final I still thought that it was possible to come back because everyone still had to do the joker and we were fast. When I finally went for the joker I came out in 6th position and the guys in front had already done their joker."
"For one second, I thought that it was over, but I found a few places to overtake everywhere: as soon as one little gap opened I took it! From there, I was happy just to get to the final! I started 6th and exited the first corner 2nd behind Seb, and I was chasing him through all of the final. We 'jokered' together and Petter came out in between us. I think Team PEUGEOT Total has really earned this victory and the double podium. You have to remember it is actually a new team and they are doing an impressive job. There are so many new people; it is only the 3rd race we have done together and we already have a great result."
I like when the racing week-end end-up this way ? On the podium with teammate @SebastienLoeb – 3rd position. ? Proud of my lion family! #BornReady pic.twitter.com/i1OUgyPpcT

— Timmy Hansen (@Timmy_Hansen) May 13, 2018
Kevin Hansen
"I think the weekend has been really good. After the crash I had last year, it took some time to get my confidence. Throughout this weekend I could feel the car getting better and better which helped me to keep building my pace. Overall I am very happy. Going into the semi-final was nice, and now that the first 3 races are done I am looking forward to getting into the mid-season, digging deep and trying to push for even better results. I can't wait to visit Silverstone: it is a new track for everybody and I think that our car will suit the track very well."