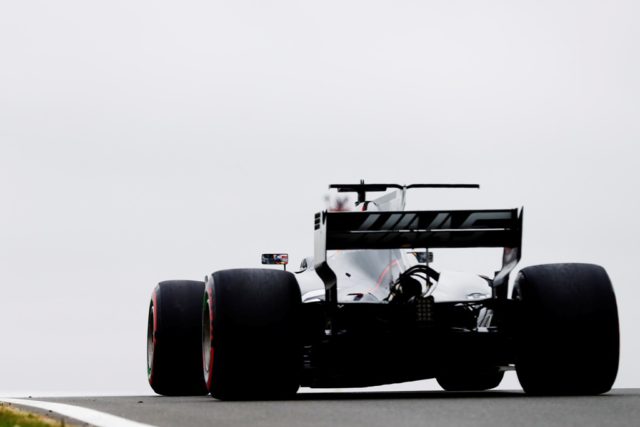 With 10 races down and 10 to go in the 2017 FIA Formula One World Championship, Haas F1 Team has already equalled its point tally from 2016 when it became the first American Formula One team to take the grid in 30 years. Twenty-nine points were earned in that inaugural season which consisted of 21 races. But just nine races into this year's 20-race marathon, Haas has scored the same amount of points. Drivers Romain Grosjean and Kevin Magnussen have delivered point-paying performances in all but three races so far this season.
The organization's penchant for points has positioned the second-year team seventh in the constructors' standings, only four points behind sixth-place Toro Rosso and three points ahead of eighth-place Renault. Fifth-place Williams is only 12 points ahead, highlighting the ultra-competitive midfield where drivers and teams are separated by just tenths of a second. Team principal Guenther Steiner summarises that performance and explains what's expected in the Hungarian Grand prix.
We're halfway through the season and halfway through Haas F1 Team's sophomore year. Can you provide an assessment of what the team has achieved so far and what you'd like to accomplish the rest of the year?
"Overall, I think the team achieved what we promised to achieve – to be respectable and to get points. In the first year, we ended up with 29 points over the whole season. Halfway through our second season, we are up to 29 points. We always try to do what we say we're going to do, and the rest of the season we just want to continue like we did in the first half and, ultimately, try to better our position in the championship from last year."
The Hungaroring is a tight circuit with a lot of corners, which means a lot of braking. You tried new Brembo brakes and new Carbon Industrie brakes in the British Grand Prix at Silverstone. Did it provide the comparison you were looking for?
"Yes, we did. We made one step toward understanding the new brakes. There is a second step because in Silverstone there is no hard braking – it's one of the circuits where you use the brakes less than in all of the other circuits. Hungary is the opposite. You use the brakes quite a bit and you have no time to cool them down because there are no big straights. So, we continue our testing and see where we get in FP1 and FP2, and then decide what we are going to do for the race."
Grosjean ran Carbon Industrie brakes in the British Grand Prix while Magnussen ran Brembo brakes. What's next in terms of the brake package we'll see used at the Hungaroring?
"We will only know that after FP1 and FP2 because we are in the phase of evaluating and testing brakes. It depends a little on the driver feeling. At Silverstone, Kevin preferred to stay with the Brembo brakes because he knew them better and he did not do FP1, so he was more comfortable with them. But again, I don't know what will happen in Hungary until after FP1 and FP2."
We're halfway through the season. How has it been to find and keep a tire's working range?
"Difficult. Everybody is working hard to get the tires to work. In some places, we get them in the window and they're very good, but sometimes we are out of it. I think the biggest performance every team can get this year is to get the tire in the proper window where they work well."
How important is finding the tire's optimum performance at the Hungaroring in terms of performance but also tire management?
"It's difficult at all circuits to find the performance or to 'get them in the window' like we say. The management is part of it. You only find out when you drive the car how much degradation there is, and from there on you manage the tires so that they stay in the window – that they last – and that the degradation is not too high. It is difficult everywhere and sometimes the heat helps, but sometimes it doesn't help. We need to go there and see what we can do with them."
A lot of grip, a lot of braking and a lot of high-energy demands all conspire against tires at the Hungaroring. What do drivers need to do to manage the tires and get the most out of them?
"You need to get your brake package in the right window so you're not putting too much energy into the tires from the brakes, and the driver just needs to always see that he gets them in the window, especially in qualifying, so when you cross the finish line for your fast lap, you have the right temperature in them."
Antonio Giovinazzi will be in FP1 again for Haas F1 Team at Hungary. How was his performance in FP1 at Silverstone?
"Antonio's performance was good. He did what we asked him to do. His feedback was excellent. He has experience. He did two races and quite a bit of winter testing this year for Sauber, but he still surprised us with his feedback about what the car was doing. He's very professional and he was fast, as well."
While having one of your regular drivers sit out an FP1 session isn't ideal, how important is it to make that sacrifice so that future driving talent can gain valuable Formula One experience?
"It's not ideal, but it's part of the game. We need to give young drivers the chance to get in an F1 car because it has proven very difficult with very little testing. As a team, we need to look out for the future drivers and that's what we're doing by putting Antonio in, and Kevin is very helpful in letting it happen."
With each FP1 session Giovinazzi partakes with Haas F1 Team, do you throw more at him each time to see how he responds, or do you continue with your program just as you would if Grosjean or Magnussen were in the car?
"We do our normal program as we would with Kevin or Romain because that is what we need to do on a weekend. The work is mainly around learning the tires for the weekend."
How well are the GP3 Series and Formula 2 Series preparing drivers for a possible Formula One future?
"They are the right two series if you want to get to F1 because the cars are very good and they race on tracks where F1 is racing. So not only do the drivers learn the racetracks, but they're around F1 people and learn the culture of it all. I think these are the two series that if somebody wants to get into Formula 1, they should be doing."
What kinds of adjustments do drivers coming from junior series need to make when they eventually drive a Formula One car?
"I think with the new car it's mainly physical with the higher g-forces, and then mentally it's the amount of people they have to deal with when they get into F1. It's amazing, the step you take between F2 and F1 – the complexity of the sport and cars. For young guys, it's quite brutal, and I think that's as much to deal with as the physical aspects or the driving aspects because after doing GP3 and/or F2, you are well prepared to drive. It's all of the surroundings that put you under stress, and they are more difficult to deal with than the driving."
The Hungarian Grand Prix marks the last race before the three-week summer shutdown. How valuable is that time for personnel to take off and hit a reset button before coming back to work with back-to-back Grands prix in Belgium and Italy?
"The shutdown is one of the best things F1 has done because people have something to look forward to in the middle of the season. Otherwise, it's a never-ending drill. Everyone is putting the last little effort in before the summer shutdown, and then they go for two weeks and normally we all come back a little refreshed."
How much work needs to be done between the end of the Hungarian Grand Prix and the start of the summer shutdown so that your personnel is able to take well-deserved time off without any jobs being overlooked or falling through the cracks?
"It would be like a two-week break between races because it's four weeks. In theory, we take all of the parts off the car to be refurbished and then when we come back, we rebuild the car. There's nothing exceptional that we do work-wise on the cars before the shutdown."
As we prepare for the #HungarianGP, let's take a look back to a ? of @RGrosjean and the @Haas_Automation team from last year's event.#TBT pic.twitter.com/In0Zwz2ZVH

— Haas F1 Team (@HaasF1Team) July 20, 2017