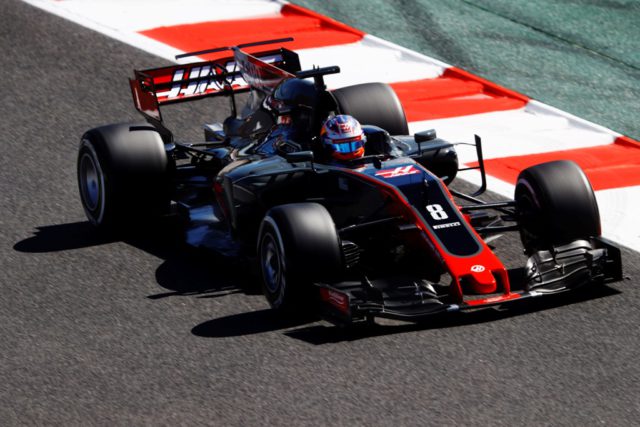 Romain Grosjean calls it "two different circuits in one". It is Baku City Circuit, a 6.003-kilometer, 20-turn street course that hosts the Azerbaijan Grand Prix this weekend.
We're now a third of the way through Haas F1 Team's second year. How would you assess the season and the team's development to date?
"It's been a pretty good start. I think from last year we've made some big steps forward in all places. We're more consistent. We've been able to score points more times than last year, which is good. There are still a lot of areas where we want to improve and we can improve. Generally, I'm very pleased with the way the team has been moving forward."
The Canadian Grand Prix was another example of how tight the midfield is this year, where teams are separated by just tenths of a second. Everyone is talking about the battle between Ferrari and Mercedes, but how would you characterise the midfield battle between Force India, Toro Rosso, Williams, Renault and Haas?
"It's actually very exciting. If you were removing the three big teams at the front and only leaving the midfield, there would be a different race winner almost every Grand prix. The difference between pole position and P2 in Canada was much bigger than from P10 to around P17 or P18. That shows how tight it is in the midfield and how much we have to be getting 100 percent from the car every time."
With last year being the first race at Baku City Circuit, time in the simulator was the only way to prepare for the race. How did your time in the simulator compare with the reality of your first lap around the track? And if there was no simulator time, how did you prepare yourself to compete at an unknown venue?
"Simulators are a great help, but it's never going to be as good as driving the track for the first time. Especially when it's a new Grand prix, the track's layout is never 100 percent correct in a simulator. I guess the best way is just to walk the track, see how it goes, then take it steady on the first few laps and build your pace from there."
Baku became the fastest street circuit in Formula One when it debuted last year and speeds have only increased this year. What do you expect with this newer, faster and wider car on a circuit that's only a year old?
"It's going to be pretty exciting. I think some parts of the circuit are going to be very tight for the wider cars, but some other corners are going to be really nice to drive. Straight-line speed is going to be a bit down. I think it's going to be a really cool track to drive with these cars – braking late and carrying a lot of speed in the corners, and playing around with some pretty fast corners through the walls."
Was there anything from last year's race at Baku that's applicable to this year's race, or is it all out the window because the cars are so different?
"I believe there's always a lot of things you can bring from the past, even when the cars are different. We'll look at what we did last year, what our setup was like, and what we could've done better in the race. I think we've got some ideas and we'll apply that with the deltas of this year. There are always things we can learn and improve."
Most first-year events have some growing pains. But last year's race seemed to come off incredibly well. What did you think of Baku's first race?
"It was a really good race. It's a beautiful city and a beautiful track. The only downside we noticed was the plastic bags flying around – they actually cost us points in the race as one got caught in the radiator intake. Hopefully, that's improved. For me, that was the only downside of what was a really good weekend."
What was the most challenging part of the Baku City Circuit and why?
"I would say it was the back end – going around the castle, up the hills, then going back down and the two last corners, which were actually pretty tricky."
What is your favourite part of the Baku City Circuit and why?
"Actually the same part. It's the most challenging one. It's pretty high speed and you've got to get the right balance in those corners as well as the braking. It's pretty exciting when you get it right."
Describe a lap around Baku City Circuit.
"You've got the first part of the circuit – big straight lines and then big braking into 90-degree corners. It's not the most exciting, but it's good for overtaking. Then later the track changes a lot. There are very tight corners, but flowing ones. Around the castle, it's uphill and very fast. The two last corners are downhill with a lot of camber before the long back straight. It's really two different circuits in one."
From the narrow, winding streets of Old City Baku to the illuminated Flame Towers, what's your favorite part of the city?#AzerbaijanGP pic.twitter.com/2DMI64BVC8

— Haas F1 Team (@HaasF1Team) June 20, 2017