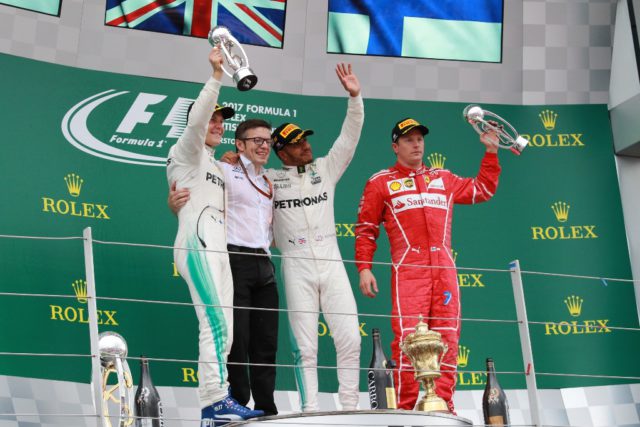 Lewis Hamilton took his 57th career victory – his fifth at the Silverstone circuit and fourth of the 2017 season. He scored his fifth career Grand Slam, claiming pole, the victory, fastest lap and leading every lap of the Grand Prix. Valtteri Bottas came home in second to secure the Silver Arrows' second 1-2 of 2017.
Lewis Hamilton:
"I'm so happy… This has got to be one of my sweetest wins here. I was gunning for this victory. There was so much negativity ahead of the race, with people questioning how I prepared for the race. But this weekend has been one of my strongest ever. I made a solid start and then after that I managed the car and the balance, and the boys did a fantastic pit stop. I really can't find a fault at the moment."
"The team did an exceptional job this weekend and Valtteri obviously drove a stormer today – I'm proud of him. It's great to have him on the team."
"I'm surprised to see the issues the Ferrari had because I didn't see any debris. I did not expect to come away from this weekend just one point behind Sebastian. This result really opens up the championship – and we go to Hungary next, where I've always gone well. Every time I came around Turn 7, I could see the fans cheering every single lap. It was really reminiscent of 2008, my first Grand Prix win here. I've got some great supporters here, not only in the crowd but in the garage as well. I've got my brother here, some of my aunties and family have come too. There's this amazing young kid who's come from South Africa, Michael, who is fighting cancer. It was amazing to see him. And Billy Monger is with us, who is just such an inspiration.
Valtteri Bottas:
"What a race! I'm really happy for us as a team, to get the second 1-2 of the season. Of course, I would have liked to win, but I'm happy anyway because that was definitely one of my best ever races. I had to fight hardcore out there a couple of times, but I ended up in a good position. We could actually go longer than expected in the first stint on the softs and the tyres were really good."
"In the last stint the team told me to just take care of the tyres because we saw a few failures out there for some other teams, but for me they were fine. We're just at the halfway point of the season and it could definitely be worst. It's still just my first year with the team and I'm still right in the championship fight. As a team, we did a really good job today. The strategy right from the start of the race worked really well. It was a flawless race for us and the 1-2 was our prize – the team really deserve this. We definitely got lucky with Kimi [Raikkonen]'s puncture in the end, to take P2, but that's racing and today luck was on our side."
What. A. Day…

These ? are definitely going in the scrapbook! #BritishGP ?? @F1 pic.twitter.com/FZgPSs7B5V

— Mercedes-AMG F1 (@MercedesAMGF1) July 16, 2017