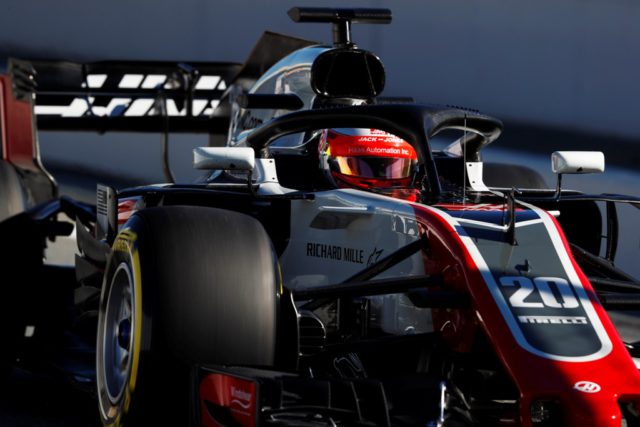 Kevin Magnussen made his first career Formula One start in the 2014 Australian Grand Prix. It was an incredibly stout performance as he started fourth and finished second. The 18 points Magnussen earned for that runner-up effort put him in the Formula One record book for the most points scored in a debut. And unless a new driver wins in his first race, it's a feat that won't be beaten. (Next best is Felipe Nasr, who scored 10 points in his debut via a fifth-place finish in the 2015 Australian Grand Prix.) Now the Haas driver is ready for the Melbourne challenge once again.
In 2016, Haas F1 Team was starting from scratch, and that had its own unique challenges. To get ready for 2017, the team had to race its 2016 car while simultaneously developing the 2017 car. It's what every Formula One team does, but that was Haas F1 Team's first time doing so. But considering how every team improved for 2018 and none seemed handicapped in terms of engine and chassis design, do you envision 2018 being Haas F1 Team's most challenging season yet?
"Challenging? I don't know. It's going to be a good season, another good season. The first two for the team has been quite successful. It's going to be difficult to improve them but, of course, that is our aim."
Haas F1 Team tested at Circuit de Barcelona – Catalunya for eight days over a 12-day span. How did it go and how did it prepare you for Australia?
"It went well. I think we made progress with the car. Hopefully, when we get to Australia, we have a package that we know and are happy with."
Finally race week again! ???? pic.twitter.com/4pM5UCpLQn

— Kevin Magnussen (@KevinMagnussen) March 19, 2018
How would you describe the VF-18?
"It's been pretty consistent. We've only been to one track with it, but we're going to learn a lot more about it during the season."
Did testing provide a glimpse of where Haas F1 Team stacks up to the competition, or will it only be known after a handful of races?
"That's only going to be known after the first few races."
This year's car is an evolution of last year's car, with the intent being to make it more consistent. Whether it was with aero balance or mechanical balance, do you feel the car has the kind of consistency you're looking for?
"We don't really know yet until we get to other circuits, but it worked pretty well in Barcelona."
While everyone seemed to have an opinion about the halo as each team introduced its new car, by the end of the test it all seemed pretty normal. Was it much ado about nothing, or did the halo take some getting used to?
"I think the halo will still take some time getting used to."
Haas F1 Team had a remarkable debut in the 2016 Australian Grand Prix. And in 2014, you also had a remarkable Formula One debut at Australia, starting fourth and finishing second to Nico Rosberg. How were you able to achieve such a strong result in your first Formula One race?
"I think I just went into it with a smile. I enjoyed it and didn't really think too much about the race. As I had nothing to lose, I just went for it. I drove at my best, had a bit of luck as well, and I ended up on the podium. It was a great experience and a memory I will have forever. It's always going to be quite cool to say that I finished second in my first Formula One race, although it would have been nice to win. I'll do that another time."
Beyond points, what would you like to achieve in Australia that you can take with you to Bahrain and future grands prix?
"I think simply if we get points, we'll be happy. We'll go from there."
What is your favourite part of the Melbourne Grand Prix Circuit?
"I'd say turn 11 – the chicane – because it's fast."
Explain a lap around the Melbourne Grand Prix Circuit, especially now after having competed there with the faster, current-generation car.
"Australia's cool because it's part street circuit, part road course. It's got the feeling of being a street circuit, but it has the flow of a permanent road course. It's tricky because it's bumpy in places, braking zones are twisty, and corners are tight in places. That said, it still has some good, high-speed sections like turn 11. The chicane there is really, really fast with the current-generation car. It's just exciting to be in Australia. It's the first race of the year and that brings a special feeling."

Last year trying oysters for the first time ? #tb pic.twitter.com/Mlo9IvJrDt

— Kevin Magnussen (@KevinMagnussen) March 16, 2018