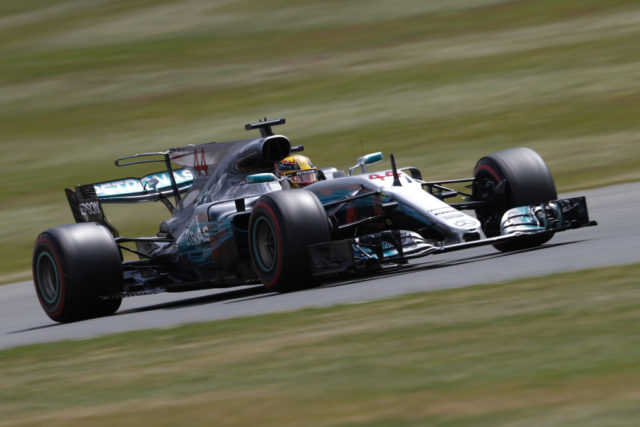 Lewis Hamilton triumphed in the F1 British Grand prix. It was a double victory for the Mercedes team thanks to Valtteri Bottas' second place.
Kimi Raikkonen was third but he and his Ferrari teammate Sebastian Vettel suffered real drama in the last laps. Both had punctures, the German – in the very last lap of the race. He still managed to get back on the circuit and finished seventh. But Hamilton slashed his lead in the championship overall classification to 1 point.
That was fifth win the British Grand prix for the home hero. That moves him level with Jim Clark and Alain Prost (both with 5 British wins).
The race got off to a false start as an extra formation lap was needed because Jolyon Palmer had stopped on track with brake-by-wire failure. That meant the race distance was down to 51 laps. But there was excitement right from the start, with Kimi and Sebastian fighting with Max Verstappen. Then came a collision between the two Toro Rossos which brought out the Safety Car. Raikkonen hung on to Hamilton, while Vettel, who had a few difficulties at the start, was fourth.
Racing restarted on lap 5, with Kimi matching the leader's pace. Vettel had to be patient before getting his place back. It was a thrilling duel, but in the end, it was decided on the strategy call: a scheduled pit stop for Sebastian on lap 19 saw the German fit the soft tyres. The number 5 Ferrari came out ahead of the Force India duo in fifth place. Verstappen, therefore, had to pit to cover the Scuderia's strategy and he was behind the Ferrari after rejoining the race. Vettel then made a fastest lap, before passing Nico Hulkenberg for fourth place.
Bottas stopped latest of the drivers in the head of the race – on lap 32 – and came the first duel. Vettel repulsed the first attack. But the move ruined his tyres and he lost the position on the Hangar Straight. "I can get to the finish", came his reassurance over the radio and indeed he would, while out in front, with only two laps remaining, Kimi's left front tyre suddenly let go. The Finn pitted and took on supersofts, while he was helped by the fact Verstappen also needed to make an unexpected stop. But on the last lap, Vettel also got a puncture, again a left front. He dived into pit lane and managed to stay in the points.
Lewis Hamilton triumphs in the British Grand prix, drama for Ferrari
LAP 51/51: PUNCTURE FOR VETTEL#BritishGP ?? pic.twitter.com/XhdGm2Ksnl

— Formula 1 (@F1) July 16, 2017
PROVISIONAL CLASSIFICATION

Massive drama on the final laps as Hamilton cuts Vettel's championship lead to one point#BritishGP ?? pic.twitter.com/LAQ8wfDW4b

— Formula 1 (@F1) July 16, 2017
DRIVER STANDINGS

One point in it

One more race before summer break (HUN)

So what's everyone doing two weeks from today? ??#BritishGP ?? pic.twitter.com/z3w3sGs9qo

— Formula 1 (@F1) July 16, 2017