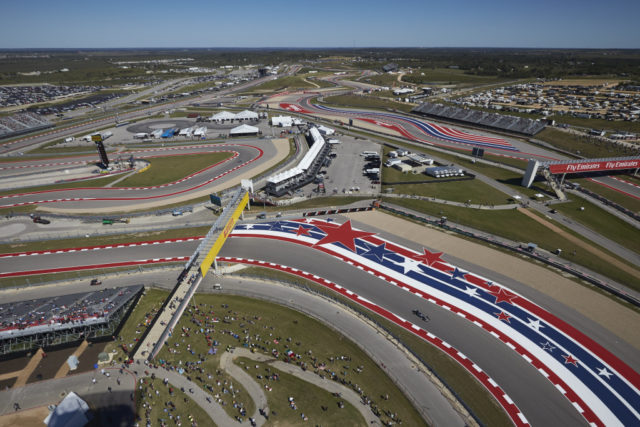 The United States Grand prix dates back to 1950 when the Indianapolis 500 counted as a round of the world championship. Eleven times from 1950 to 1960, points scored at Indy were added to a Formula One driver's season tally. And in 1959 America hosted two Formula One races when in addition to Indianapolis, the United States Grand Prix was held at Sebring (Fla.) International Raceway. It served as the ninth and final round of the 1959 season.
In 1960, Formula One moved to Riverside (Calif.) International Raceway before finally settling down for a 20-year tenure at Watkins Glen (N.Y.) International from 1961 to 1980. From 1976 to 1980, Watkins Glen was joined by Long Beach, California, on the Formula One schedule, with the United States Grand Prix West taking place until 1983. After Watkins Glen fell off the calendar, Las Vegas took its place for two seasons (1981-1982) with the Caesars Palace Grand Prix being held on its hotel parking lot. In 1982, America hosted three Formula One races when in addition to Long Beach and Las Vegas, Detroit was added to the schedule. Detroit hosted Formula One on a bumpy street circuit for seven years, with its last grand prix coming in 1988.
Dallas made a one-race appearance in 1984 when Fair Park was converted to a Formula One circuit for the Dallas Grand prix
Phoenix was next up for Formula One from 1989 to 1991 before a nine-year absence of the sport from America's shores. But then Indianapolis Motor Speedway president Tony George built a road course within the confines of the historic 2.5-mile oval and Formula One returned with the United States Grand Prix at Indianapolis from 2000 to 2007. Sadly, Formula One in America fell off the calendar again. It wasn't until COTA was constructed in 2011, becoming the first purpose-built Formula One facility in the United States, that Formula One was able to return to America with the 2012 United States Grand Prix. Since then, COTA has been America's one and only home for Formula One.
During the course of the United States Grand prix, lows will range from 16-20 degrees Celsius (60-68 degrees Fahrenheit) to highs of 28-30 degrees Celsius (82-86 degrees Fahrenheit). Relative humidity ranges from 37 percent (comfortable) to 92 percent (very humid), with a dewpoint varying from 7 degrees Celsius/44 degrees Fahrenheit (dry) to 18 degrees Celsius/64 degrees Fahrenheit (mildly humid). The dew point is rarely below 2 degrees Celsius/35 degrees Fahrenheit (dry) or above 22 degrees Celsius/71 degrees Fahrenheit (very muggy). Typical wind speeds vary from 0- 24kph/0-15 mph (calm to moderate breeze), rarely exceeding 31 kph/19 mph (fresh breeze).
Power Unit Notes
– Just under 60% of the lap is taken at wide open throttle, rising to over 60% in qualifying. The average speed will be a touch over 200kph with top speed peaking at over 320kph.
– Since gradient changes a lot over one lap, engine speeds and turbo rotation vary constantly, and settings must be constantly adjusted to give optimal performance.
– After the first corner, the driver goes back up through the gears to reach seventh for turns 2, 3 and 4, which are taken flat out with an average speed of 270kph. Similar to Maggots and Becketts at Silverstone and the Esses at Suzuka, the driver needs to be precise on the throttle and carry the speed all the way through rather than brake and accelerate. The power unit needs to be correspondingly smooth throughout the turns, delivering constant levels of torque.
– The low ambient humidity of the Texan grasslands has a big effect on the power units. The air will contain more oxygen and the ICE will generate more power, but the aridity is very taxing on the internals. We will watch ignition timing very closely.
– Similar to Abu Dhabi, the longest straight is not the pit straight. In Austin, it is the burst between turns 11 and 12, which is 1,016m. The car will be at full throttle for almost 12secs. It will also spend over two seconds at maximum velocity at the end of the straight. The driver will brake heavily at the end of the straight for the hairpin so rear-end stability and stability under braking will be crucial.
IT'S RACE WEEK ?

And @COTA is turning pink as #F1 teams up with @SusanGKomen to fight breast cancer ? #USGP ?? pic.twitter.com/otq9CAJv4R

— Formula 1 (@F1) October 16, 2017
In Numbers
16m – Texas's cattle population is estimated to be 16m.
40 – If it was a country, Texas would be ranked the 40th biggest in the world
254 – Number of counties in Texas
Race title: 2017 Formula 1 United States Grand Prix
Circuit name Circuit of The Americas
First race 2012
Previous winners
2016 Lewis Hamilton, 56 laps, 1:38:12.618s
2015 Lewis Hamilton
2014 Lewis Hamilton
History lesson The United States Grand prix has a long and varied history. 10 different venues were hosts to the race since its first inclusion in the calendar – in 1959. The Circuit of The Americas (COTA) is the first purpose-built track for Formula 1. Bruce McLaren won the country's inaugural race in '59 since when popularity of the sport in the US has been boosted by its two American world champions, Phil Hill in 1961 and Mario Andretti in 1978
Travel
City Austin
Time zone BST-6/CET-7
Population 800,000
Local speciality Austin is as cosmopolitan as it gets in Texas, with food staples from around the world. But if you want to try a local speciality, look no further than Texas-style barbecue – beef cooked on a wood-based barbecue and eaten with lots of spices and sauces. Texas toast is a delicious side dish – grilled white bread with butter and garlic
Weather The temperature swing is quite extreme at this time of year. There are cold nights, when the temperature regularly drops into single figures, and warm days of up to 25 degrees Celsius
Track
Track length 5.513km/3.427 miles (9th longest track of the year – longest: Spa-Francorchamps, shortest: Monaco)
2016 pole position Lewis Hamilton, 1m34.999s
2016 fastest lap Sebastian Vettel, 1m39.877s (lap 55)
Lap record 1:39.347s (Sebastian Vettel, 2012)
Tyre choice Purple Ultrasoft, red Supersoft and yellow Soft – the eighth time this combination has been used in 2017
Distance to Turn One 280m/0.174 miles (longest of season: Barcelona 730m/0.454 miles)
Longest straight 1090m/0.677 miles, on the approach to Turn 12 (longest of the season: Baku, 2.1km/1.305 miles)
Top speed 320km/h/199mph, on the approach to Turn 12 (fastest of season: Monza, 360km/h/224mph)
Full throttle 63 percent (highest of the season: Monza, 75 percent)
Brakewear Medium. There are 10 braking zones, but only four of them are significant
Fuel consumption 1.8kg per lap, which is average
ERS demands Medium. Drivers deploy ERS for around 35 percent of the lap
Gear changes 54 per lap/3,024 per race
Race
Laps 56 laps
Start time 14:00hrs local/20:00hrs BST/21:00 CET
Grid advantage Pole position is on the right-hand side of the grid, on the racing line. There's more grip available here, but Turn One is a left-hander and it's important to cover off the inside line after the start
DRS There are two DRS zones, on the approaches to Turns One and 12
Don't put the kettle on… The winner in this race traditionally had a two-stop strategy, around laps 11 and 31. But Pirelli have gone one step softer with their compound choices this year, which could result in more pitstops if there are no Safety Cars
Pitlane length/Pitstops 385m/0.239 miles (longest of the season: Silverstone, 457m/0.283 miles). It takes 20sec to make a stop
Safety Car likelihood 50 per ]cent. There's been plenty of incident and accident over the years, but wide run-off areas and efficient marshalling reduces the need for a Safety Car
Watch out for… Alterations to the pre-race build-up. The pitlane will open 15 minutes earlier than usual to allow time for legendary announcer Michael Buffer to introduce all 20 drivers on the grid
History ✅
Stats ✅
Layout ✅

VIDEO: Everything you need to know about @COTA and the #USGP ahead of race weekend >> https://t.co/oQnlpuVRzO pic.twitter.com/qJNnEKwXi8

— Formula 1 (@F1) October 16, 2017