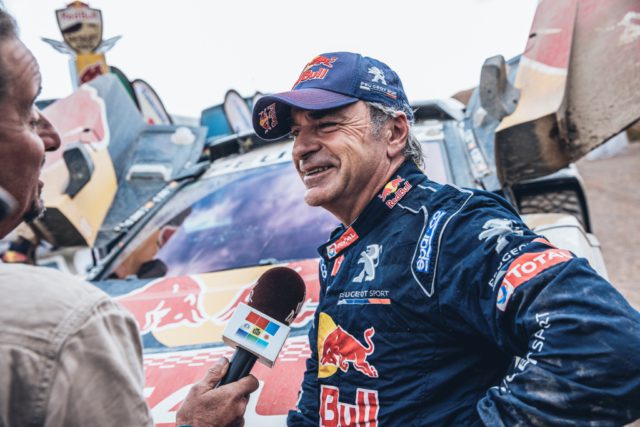 Red Bull TV features one of its most legendary guest reporters yet. Two-time World Champion Carlos Sainz becomes the guide to the sixth round of the series from May 18-21.
Rally Portugal is the event where Carlos made his WRC debut 30 years ago. And there he won his very first stage, igniting a stellar career. But it's also an event where he has stood on the top step of the podium twice: putting him in a unique position to talk about its varied challenges. Namely: technical gravel roads, changeable weather, soft surfaces. And rocks that can catch drivers out in just a fraction of a second. All factors that combine to make Rally Portugal a true classic.
Carlos Sainz, known to many as simply 'The King', was a star in the golden era of rallying alongside legends such as Colin McRae and Sebastien Loeb
He drove for all the top teams including Toyota, Ford and Citroen. And the Spaniard is still competing now, forming an integral part of Peugeot's 'Dream Team' on the epic Dakar Rally, alongside his former sparring partner Sebastien Loeb, Dakar record-holder Stephane Peterhansel, and another former Red Bull TV guest reporter: Cyril Despres.
"I'm really looking forward to going back to Rally Portugal," says Carlos. "I think we're going to have a lot of fun together with Red Bull TV host Mike Chen and the rest of the team, and hopefully I'll be able to show you a few special things as well."
On my way to @rallydeportugal to help and work @RedBullTV. Today some fun at power stage with @peugeotsport R5 and @lmoya_oficial ?

— Carlos Sainz (@CSainz_oficial) 18 May 2017
Once again, it's going to be tight at the top. Hyundai's Thierry Neuville is chasing a hat trick of wins, while M-Sport's Sebastien Ogier is hanging on to a reduced championship lead. Citroen is eager to prove that they are back in the game and Toyota will fight for a first win on gravel. Anything can happen!