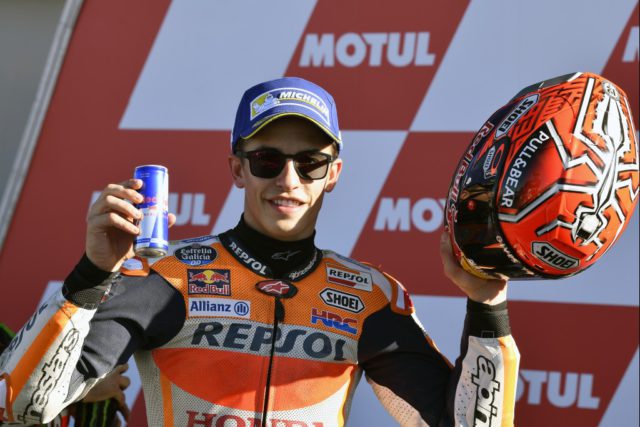 Marc Márquez clinched his fourth MotoGP title, his sixth championship overall, despite a wild moment, as sole rival Andrea Dovizioso crashed out in the closing stages at Valencia.
In a tense race at the Ricardo Tormo Circuit, Márquez came home in third position, as team-mate Dani Pedrosa beat Johann Zarco to victory, while Dovizioso crashed out as he tried to keep his slender hopes alive.
Dovizioso needed to win, with Márquez lower than 11th, to stand a chance of winning the title, but held fifth, behind Lorenzo, with Zarco leading Márquez and Pedrosa.
Márquez had led away from pole position, with Pedrosa slotting into second place, but both were overhauled by the charging Zarco, with Márquez moving aside on the run to Turn 6, rather than risk a fight.
Dovizioso, meanwhile, moved up from ninth to fifth, behind Lorenzo, as the leading quintet broke away from the remainder of the pack.
Ducati issued several 'Mapping 8' messages to Lorenzo, a repeat of his Sepang instruction. The team also indicating for him a '-1', to drop a position, on his pit board. But he did not move aside.
Márquez seized the initiative from Zarco with eight laps to go. But he suffered a wild moment through Turn 1 and saved a near-crash. This forced him through the gravel, and relegating him to fifth place.
Moments later Lorenzo crashed out, promoting Dovizioso to third. But he soon went wide at Turn 8 and slid into the gravel, before dropping his Ducati. This ends his title hopes.
Dovizioso was able to return to the pit lane, where he was given a standing ovation by his pit crew. Márquez's mistake, and the exit of the Ducati riders, set up a fierce fight between Zarco and Pedrosa for victory. The Repsol Honda rider made his move on the final lap.
Pedrosa ultimately kept Zarco at bay to cap his season with victory. While Márquez moved up to third in the wake of the Ducati riders crashing, sealing his title with a podium.