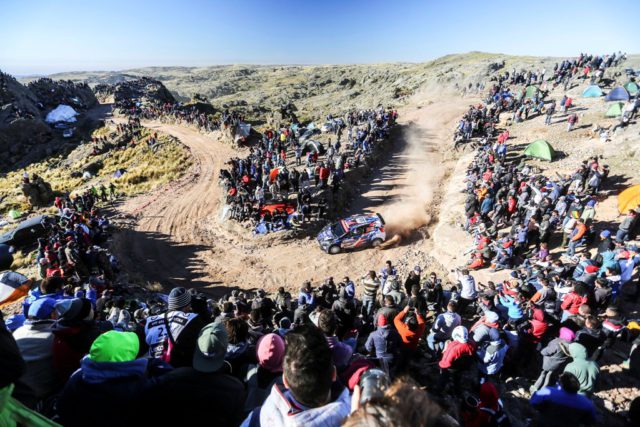 M-Sport Client Liaison Manager, Richard Millener, is one of the most valued members of the team. It's his job to ensure that all of our customers are satisfied and well looked-after both on and off events.
At popular events such as Rally de Portugal, Richard works around the clock. But he took time out of his busy schedule to answer some of the team's press office questions.
How long have you worked with M-Sport and how did you first become interested in rallying?
I've been at M-Sport for exactly 10 years and one month now and I've always been an avid fan. My dad was interested in cars, and in rallying in particular. I can remember as a child watching the rallying on TV with him and he took me to Wales Rally GB – the year Tommi [Makinen] won after Colin's [McRae] huge crash. From that moment on, I was hooked.
At university, I wrote my dissertation on rallying – heart rate profiles of rally drivers to be exact. Also, I did quite a lot of competing at club level. After completing my degree, I had no idea what I wanted to do. At the same time, there was a job advertised at M-Sport. And I thought why not. I applied, and started picking and packing parts for Ford Fiesta STs.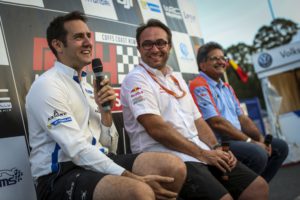 What does your role as M-Sport's Client Liaison Manager involve?
My role as Client Liaison Manager generally falls under two categories. These are looking after those who buy their own cars to do their own events, and those who choose to rally with us in the FIA World Rally Championship. Whichever category you consider, the main aspect is customer care.
I have a small team of really good people working with me, and we look after each and every customer from the moment they contact us. From the private perspective, they're assisted from the moment they buy the car. We help them out with any issues they might be experiencing, provide engineers when requested and have a full team working to ensure they receive the best after care we can possibly give.
On the WRC side of things, we organise their tests, their liveries, make sure that everything is in the right place at the right time, and that their specific programmes are exactly as they want them to be.
As you can imagine, it's a fairly big job. With the R5s alone we have more than 200 customers and we make it a priority to ensure each one is looked after individually. So far this year, our customers have secured 65 wins across 22 different national championships – and it's statistics like that which give us the most satisfaction.
What makes Rally de Portugal such a popular event for competitors?
It's the first European gravel rally of the year. With Monte and Sweden being quite specialist, it's where most people choose to start their seasons and this year it's also the first of three mandatory rounds of the WRC 2 category.
It's also just a really nice event. The weather is nice, the country is nice, the people are nice, and the stages and organisation is some of the best that we see throughout the year.
How is your time spent on events like Rally de Portugal?
This year I head out on Sunday and attend our P2 test on Monday. That is to ensure that all of our customers are happy ahead of the rally. I then go out on the recce. To keep an eye on things there and ensure that everything is running smoothly and that everyone has everything they need.
Once the rally gets underway, it's up to the drivers and I'll just keep an eye on how they're all getting on. I try to keep an eye on everyone – those in our service area and those running as privateers.
I'll also make sure that I head over to the in-control at least once or twice to spend a couple of hours catching up with everyone. It's important to see how they're getting on and if there is anything we can help with.
It's also a great opportunity to meet with prospective new customers and it's not uncommon for us to sell cars on the events themselves. Last year when Elfyn [Evans] was running in the WRC 2 category at the Tour de Corse, I had a customer ask if he could buy a car like Elfyn's. I told him he could have that very car and we did the deal there and then – with him taking the car away straight after the rally.
What are you hopes ahead of this year's Rally de Portugal?
For the main team, I hope that we can challenge for the win. We've had a great start to the season. And all three of our crews are driving really well at the moment. All of them have a fighting chance of victory.
We're also leading both championships at the moment which is something that I've never experienced before. Hopefully we can strengthen that with a strong result to give us a bigger cushion at the head of the standings.
It would be nice to see a strong result in the WRC 2 category too. There are some really strong competitors out there. But we have a good number of cars and a lot of young drivers coming through the ranks. It'll be interesting to see how they get on.
More than anything though, I just hope that all of our customers enjoy their Rally de Portugal and have fun doing it. That's what it's all about.
WRC TV recce of the Friday stages of @rallydeportugal pic.twitter.com/6fIpSYfV5G

— WRC (@OfficialWRC) 15 May 2017