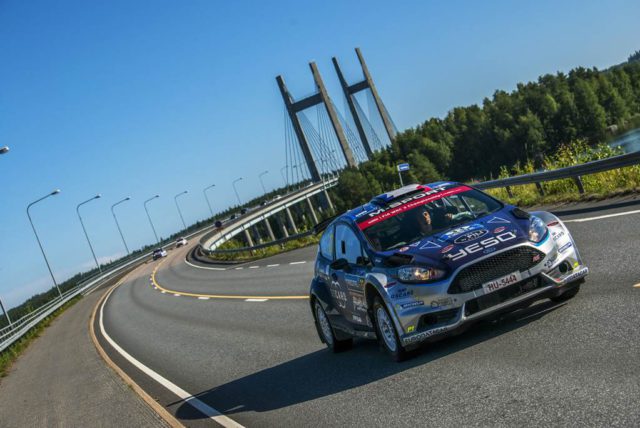 M-Sport will field five Ecoboost-powered Ford Fiesta R5 in the WRC 2 category at ADAC Rallye Deutschland. Here's what Teemu Suninen, Éric Camilli, Gus Greensmith, Pierre-Louis Loubet and Jon Armstrong had to say ahead of the event.
Teemu Suninen said:
"I've got a good feeling from the previous rallies, and I think we can be satisfied with the gravel season so far. Now, it's time for Tarmac and in Germany we are back competing in the WRC 2 category."
"No matter what category we compete in, the challenge remains the same and we need to show our speed. This rally has always felt difficult. There's not much clean Tarmac and the conditions are changing all the time."
"Here's hoping we can deliver a good Rallye Deutschland this time around."
Éric Camilli said:
"We'll be back in WRC 2, and back on Tarmac which will be a nice change. I've really grown to love gravel rallying, but it's true that I feel most at home on Tarmac."
"I made my WRC debut at Rallye Deutschland, so it's always a pleasure to go back there. The roads in Germany are really challenging, but when you get it right it's also really enjoyable and I'm looking forward to the challenge."
"The competition will be really strong but I hope that we'll be able to show our pace on asphalt, as we have in the most recent gravel rallies."
Gus Greensmith said:
"Returning to Tarmac almost feels like coming home. Before making the move to rallying, I learnt my trade on kart tracks so this surface is what feels most natural to me."
"In the lead up to Rallye Deutschland, I spent two days training with Formula One coach Rob Wilson which was really useful. It was great to learn from someone else's experience and try some new techniques that I'm looking forward to putting into practice next week."
"This will be my first time with an R5 car on Tarmac so I'm not sure where we can expect to be. It's not an easy rally and you have to be really clever to avoid mistakes. That said, I'm sure the transition will happen quite quickly so let's wait and see what we can do."
Tarmac trim for #RallyeDeutschland https://t.co/ylCwRaVjIL

— Gus Greensmith (@GreensmithGus) August 9, 2017
Pierre-Louis Loubet said:
"I'm very happy to be back on Tarmac next week. The Fiesta R5 felt really good in Corsica so I'm looking forward to Rallye Deutschland and to seeing what we can do."
"I've done a lot of physical preparation ahead of this rally, as well as working on the videos. A lot of the stages will be new this year, but it's always important to work through the video and get a feel for the event."
"The level will be really high with a lot of very good drivers in action. The challenge will be to get immediately into a good rhythm. There will be a lot of changes in pace and it's important to know how to manage that.
"As always, we plan to give our maximum and hope for a good result."
Jon Armstrong said:
"I'm really excited to get my first prize drive underway – it's a dream come true for me and Noel (O'Sullivan – his co-driver). I'm very grateful to M-Sport and DMACK for this amazing opportunity and intend to make the most of it. I have no experience in an R5 car, but I'm certainly looking forward to it."
"I've only managed to do two events this year – in slower cars – but we'll have a pre-event test early next week that I hope will help with the feeling. To be best prepared, I've also been training really hard in the gym and done a lot of driving in my simulator which has been set-up to replicate the Fiesta R5 that I'll be driving next week."
"Last year was my first experience of Rallye Deutschland and it was a great event. There are a lot of different stage characteristics and the weather can make it really difficult to judge the grip levels. It will be a challenge for sure, but I can't wait to get started."
"I always want to do well and it would be great to be at the top end of the WRC 2 leader board, but we also have to be realistic. All the main championship contenders will be in action so we just need to focus on ourselves – on improving stage by stage and getting faster as the rally goes on."
We are on our way to Germany and she is on her way too ? #R5 #WRC pic.twitter.com/Up4SLrs4IE

— Noel O Sullivan (@Noelsull1) 13 август 2017 г.