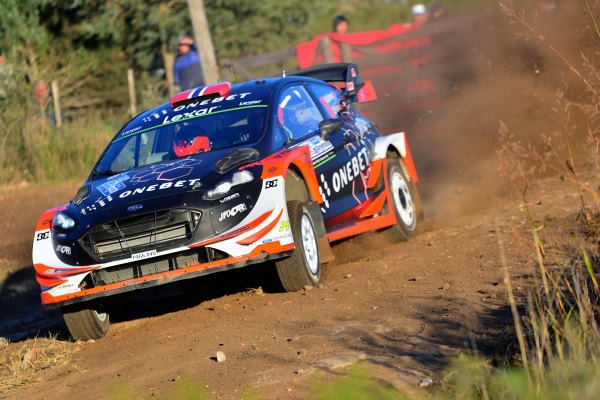 Mads Østberg and codriver Ola Fløene had a positive feeling after finishing Rally Argentina. Their Ford Fiesta WRC was repaired after Saturdays small off and suspension damage. Mads gained two positions in the last day in the overall leaderboard to finish inside the points in 9th position. The team still felt they have proved to be very competitive and in position to fight for podiums in the coming events.
"It was, of course, not what I had hoped for before the event, but this has been our rally of lost chances". Østberg commented. "We defintitely had the speed, but a bit of bad luck and a small mistake on SS14 decided our result. Still I am very positive, because we have shown everybody that our small privateer team is fully competitive against opposition with much bigger resources. And even better for myself, I really enjoy rallying again after a difficult last year."
Mads Østberg: "I really enjoy rallying again after a difficult last year"
Mads hoped to set some good stage on the Sunday, but there were some problems with the differentials on the Fiesta. They were probably result of the car hitting a rock on SS14 the day before and damaging the suspension.
"I was careful expressing high ambitions before the start of the event, but I had a goal to fight for a podium position. That proved to be realistic, but as the margins are as small as they are in rallying, we were not able to complete that task. Still I am optimistic before the next events. I have gotten my motivation back and the team is working just as dedicated and enthusiastic as myself and Ola. Rally is fun again and we are certainly looking forward to Portugal in only three weeks time", Mads added.
This is what ended our @rallyargentina adventure. Bad luck ?#WRC pic.twitter.com/JF88nPS0RD

— Mads Østberg (@MadsOstberg) 30 April 2017
PLEASE HELP US GET THE LOST DIFFUSER BACK TO SERVICE! Mads lost it in watersplash approx 8km into SS10 A SURPRISE FOR THE ONE RETURNING IT pic.twitter.com/bn9PkkX0Rr

— Mads Østberg (@MadsOstberg) 29 April 2017
We've located the missing part. To this person, thank you for finding our diffuser? Please deliver to service park asap ? @OfficialWRC pic.twitter.com/5cF2S4qgaQ

— Mads Østberg (@MadsOstberg) 29 April 2017
Guess what! We got the diffuser back ? It was beyond repair, but thanks for the effort Lautaro & Alejandra Ricci ?Rallyfans = best fans ☝ pic.twitter.com/FPoochd7ep

— Mads Østberg (@MadsOstberg) 4 May 2017