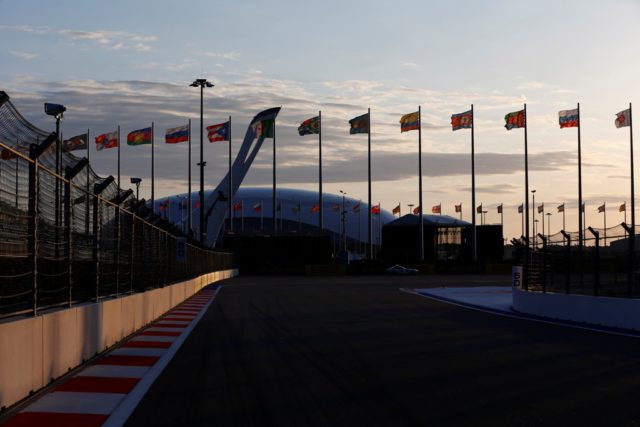 Kimi Raikkonen was fastest in the first free practice for the Russian Grand prix. Ferrari's Finnish driver outpaced compatriot Valtteri Bottas in the standings. The Mercedes driver was 0.045 seconds behind him. Lewis Hamilton was third.
The weather at the beginning of the pre-Sunday race training was wonderful – sunny with air temperatures of 20 degrees and 33 degrees on the track.
Sergey Sirotkin was in the cockpit of one of Renault's cars. The Russian also didi practice in his homeland last season, taking part in the sessions in Brazil as well. In 2014, he was behind the wheel with Sauber's team on Friday in Russia.
Most drivers made the usual installation lap and went back to the pits. Sirotkin did not stay long on track. Less than a quarter of an hour after the session began he stopped at the second turn. The driver called on the radio that there was a problem with the engine. The team answered they would try to restart the MGU-K, but did not succeed, and the marshals asked Sergey to turn off the car.
Meanwhile, Bottas recorded the first time in the session – 1:39.871 min, which was soon improved by his teammate Hamilton with three tenths of a second.
Kimi Raikkonen 0.045sec faster than Bottas in FP1 in Sochi
Sebastian Vettel called on the radio that he had problems with his car and the power unit. Ferrari's German driver also demanded a check on the behavior at the second turn's exit. Immediately after this, he gave the best time – 1:38.709, almost a second faster than Hamilton before Bottas took it down to 1:36.998.
Kimi Raikkonen complained of such vibrations in his car that they prevented him from seeing normally. The Finn was fourth in the standings after half an hour of testing, 1.6 seconds behind Bottas, who was even faster – 1:36.119 minutes.
Supersoft was the choice of tires for the final 30 minutes of preparation before noon. Raikkonen headed the standings with them – 1:36.074.
The session was stopped 24 minutes before the chequered flag due to the fallen off-engine cover of Esteban Ocon's Force India. The pieces of it scattered along the track, and race control showed a red flag until the asphalt had been cleaned. That took the marshals only five minutes.
#F1 – @ScuderiaFerrari's Kimi Raikkonen fastest in #RussianGP practice at @SochiAutodrom pic.twitter.com/ekGZkQKpgm

— FIA (@fia) 28 April 2017