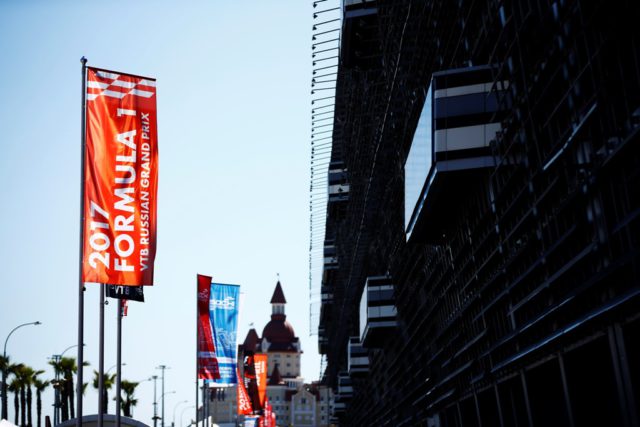 Ferrari drivers Sebastian Vettel and Kimi Raikkonen were first and second fastest in the second free practice for the Russian Grand prix. Their Mercedes rivals, Valtteri Bottas and Lewis Hamilton, were third and fourth, with the Finn 0.670 seconds slower than Vettel.
Air temperature reached 22 degrees for FP2 at Sochi Autodrom and that of the track was 39. At the beginning, the drivers again preferred soft tires. Nico Hulkenberg recorded the first time – 1:42.336, while Raikkonen immediately was at 1:36.842. Vettel lowered that to 1: 36.524 (with supersoft).
Lewis Hamilton put on supersoft, while Kimi route went under the 1:36min barrier – 1: 35.980.
Then Hamilton topped the standings with 1:35.752. The Englishman was slower than Raikkonen in the first two sectors, but was 0.228 seconds faster in the end.
Ferrari 0.670sec faster than Mercedes in FP2 in Sochi
Almost half an hour after the practice began, the Ferrari driver put ultrasoft tires. Raikkonen immediately was fastest – 1:34.383. Vettel stayed 0.097sec behind him – fastest in the first sector but then losing in the middle.
The Mercedes drivers also put ultrasoft. As they warmed up, Vettel overtook Kimi in his second attempt – 1:34.120. Bottas gave third time (+1,193 seconds) and Hamilton was fourth (+1,590). Both Bottas and Hamilton improved their achievements, but remained on the same positions.
Lewis asked which sector was weak for him and received an explanation that he needs biggest improvement in the middle as well as in the last two turns.
FP2 PROVISIONAL CLASSIFICATION (90/90 MINS): @ScuderiaFerrari looking very strong ?️ #RussianGP ?? #F1 pic.twitter.com/3Og5VWi2k4

— Formula 1 (@F1) 28 April 2017