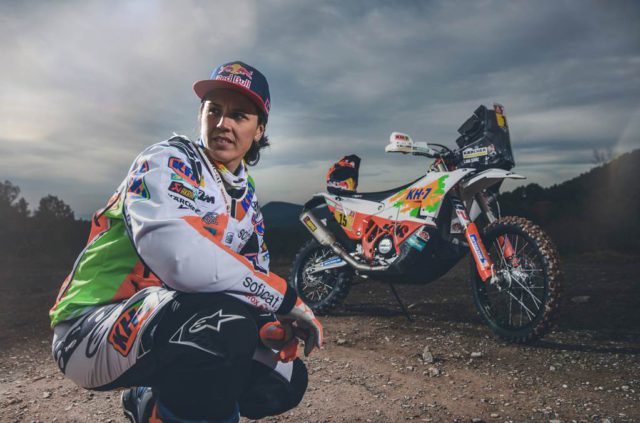 The Dakar Rally may be an event that has driven Laia Sanz to the point of dehydration and exhaustion but the Spanish motorcyclist has set her sights on her best result ever in the 2018 edition.
The upcoming Dakar will be the eighth of Sanz's career, her best two-wheeled finish dating back to 2015 when she was ninth overall.
But buoyed by a course, which aids those strong on navigation – arguably one of the Spaniard's best suits, she is brimming with confidence.
"I like what I know about the route," said the KTM rider. "The Dakar had taken a turn in the past couple of years where speed was really key but it now seems like navigation is a decisive factor again."
Of improving on that ninth place from two years ago, she said: "This year, I'm well trained and, in such a long rally, everything can happen so I'm not giving anything up either.
"The pressure is good because it means you've earned everyone's respect but I need to be realistic, entering the top 15 is really difficult. I have to start by doing my best and finish the rally, which is always difficult.
"A realistic objective is to finish in the top 15 but, if I don't fail, I can take an even better place."
Sanz has finished every Dakar she has entered
She was the first female rider on each occasion. And steadily climbed her way up the leaderboard.
Not all, though, her efforts in the event have been plain sailing.
She recalls of her debut: "In my first Dakar, I experienced a situation bordering on dehydration. It was a 600km stage, the last 100 in the sand and I was completely exhausted.
"I remember Jordi Arcarons was there and I asked him 'how much is left?'. He told me that 10 kilometres. In the end, it was 150 but I eventually got there."
The event begins on January 6 in the Peruvian capital of Lima and lasts two weeks before reaching its finish in the Argentinian city of Cordoba
Of the route that lies ahead, Sanz added: "Peru will be interesting because there will be a lot of sand during the first days. In Bolivia, we know that altitude makes things more complicated. And in Argentina, the heat can make a difference.
"For me, that will be the hardest stage. It will be a really complete Dakar, it will be more authentic than the past couple of years."
As for who her tip is to win, she said there were "almost 10 drivers who can win, it's very tight so making no mistake will be key".
Of potential victors, she added: "First, everyone from my team: Sunderland, Price, Walkner and Meo. Some are back after a serious injury so we'll see how they perform, but they have the potential to win. Or others like Gonçalves and Quintanilla, two skilled riders."
Que ?? venga dando mucho gas!!!

I wish you a very racing Christmas!!!

Que el tió vingui donant molt gas!!! pic.twitter.com/5hcC3htHEP

— Laia Sanz (@LaiaSanz_) December 24, 2017