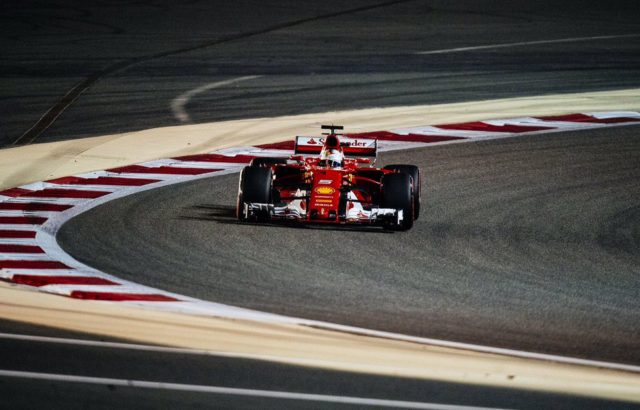 Sebastian Vettel beats the Mercedes drivers Lewis Hamilton and Valtteri Bottas to take his second victory of the season at the Bahrain Grand Prix. Vettel trailed pole-sitter Bottas early on. He profited from the undercut and an early Safety Car to move into a lead he would not relinquish.
Hamilton, on an alternate tyre strategy, had to settle for second, taking a penalty for a pit-entry infringement. Bottas dropped to third. Vettel and Hamilton were tied on points after sharing the first two wins of the season. But Vettel now holds a seven-point title advantage.
As the race in Bahrain began, Bottas had a clean getaway to keep his lead into Turn 1, while Vettel jumped Hamilton, who bogged down on the dirty side of the grid, at the exit. Vettel, lapped between the Mercedes pair for 10 laps, was the first of the frontrunners to pit. Committing to a two-stop strategy by putting on more Super Soft tyres.
Max Verstappen, up from 7th to 4th with a rapid start, was the next to stop, but a brake failure sent him into the wall at Turn 4, after which he kicked the barriers. While Verstappen's car was cleared without the Safety Car, the race was neutralised moments later when Lance Stroll and Carlos Sainz Jr. clashed through the first corner.
Sainz Jr. had just pitted his Toro Rosso and approached Turn 1 at pace, with contact inevitably made when Williams rookie Stroll turned in, littering debris over the circuit. Mercedes pitted its drivers together under the Safety Car, Bottas following Vettel onto another set of Super Softs, while Hamilton made the switch to the Soft rubber.
Hamilton was given a five-second penalty for driving slowly at the pit entry. He attempted to create some space. A move which hampered Daniel Ricciardo. Vettel controlled the race restart and pulled clear of the Mercedes pair as the second stint wore on. During it Mercedes asked Bottas to move over for Hamilton.
Bottas and Vettel pitted for Softs, as required, on laps 31 and 33 respectively. This gave Hamilton the lead, and prompted questions over whether he could go to the end. But some 10 laps later Hamilton pitted again. He served his time penalty and putting on more Softs. A strategy he initially questioned over the radio.
Hamilton instantly lit up the timing screens, lapping more than a second quicker than Bottas and Vettel ahead. Bottas was asked to move over for Hamilton once more. Which he did in peculiar fashion at Turn 12, after which Hamilton set about closing the gap to race leader Vettel.
Hamilton soon got within 10 seconds of Vettel and went on to bring the gap down to six, amid traffic. But Vettel had the situation under control.
Behind the podium finishers, Kimi Räikkönen had another difficult run to fourth, over 20 seconds away from team-mate Vettel. He battled a "disturbing" car issue. Ricciardo grabbed fifth for Red Bull, in Verstappen's absence. Felipe Massa gave Sir Frank Williams a 75th birthday present of sixth, following Stroll's retirement.
Sergio Pérez in Force India impressively recovered from 18th to seventh. He was ahead of Haas' Romain Grosjean, Renault's Nico Hülkenberg and team-mate Esteban Ocon. Sauber driver Pascal Wehrlein finished his first race of 2017 in 11th. While Daniil Kvyat (Toro Rosso) won a feisty scrap with the other Renault of Jolyon Palmer for 12th.
McLaren-Honda endured another tough day. Stoffel Vandoorne failed to make the start. Fernando Alonso failed to make the finish, amid ongoing power unit woes. Alonso lamented over the radio that "I've never raced with less power in my life". Bbefore responding to a question regarding strategy with "do whatever you want".
PROVISIONAL CLASSIFICATION
#BahrainGP ?? pic.twitter.com/aHHjf2i6nk

— Formula 1 (@F1) April 16, 2017