Venturi celebrated their 50th Formula E race with the team's first ever race win. Edoardo Mortara took victory in the fifth round of the 2018/2019 season in Hong Kong.
Virgin Racing's Sam Bird initially crossed the finish line first Mortara in second place on the podium. But a racing incident penalty for the Brit promoted the Swiss-Italian Venturi driver to first place. His teammate Felipe Massa pushed his way through a tricky race to a strong finish in fifth place.
Mortara took Venturi's first podium in Mexico City. He was sixth on the grid in Hong Kong and fought his way to the podium.
"The result is fantastic!!!", Mortara exclaimed
"Fourth in Santiago, third in Mexico, now my first victory in Hong Kong! I'm so proud and finding out that I had won was an incredible feeling for me. The race was awesome and I've had a wonderful weekend – historically racing in Asia brings me so much luck – honestly, I'm over the moon and I couldn't be happier."
"The team has done a brilliant job, they put in all the hours and pull out all the stops – this result is a tribute to their hard work. We started from quite far back this season but the guys are doing such an amazing job and improving race by race. This result is for them – I know that it will motivate them even more and I can't wait to get back out on the track."
5⃣ Races ?
5⃣ Winners ?
7⃣ Points Between Them ?

This is what @FIAFormulaE is all about! ?#MadeInMonaco #ABBFormulaE #HKEPrix pic.twitter.com/9oTcI1wUv7

— VENTURI Formula E Team (@VenturiFE) March 11, 2019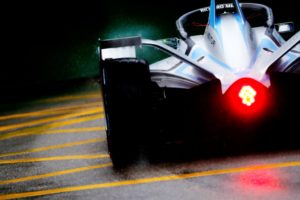 Felipe Massa also put in a solid and steady performance during the race with his best finish so far this season
Taking full advantage of the red flag situation, Massa's fast working engineering crew were able to quickly fix damage done to the rear of his Venturi VFE-05 allowing the Brazilian driver to continue his fight up the grid from ninth place in qualifying to finish fifth in the final race classification.
"Again another action filled race where so much happened. First and foremost, I am absolutely delighted for the team, Edo's result is incredible and I am very happy for him", Massa commented.
"My race had a fantastic start and I gained two positions then a racing incident resulted in me losing several positions and damage to the rear of my car. Fortunately we had the red flag and managed to fix the problem with the suspension. The mechanics did a fantastic job to repair it so quickly and after the restart the race was great. I managed to save the battery in a great way at the beginning, I had great race pace and I managed to overtake a few guys. P5 is my best result so far but I still have in my mind that it could have been even better. Anyway, I'm so happy for the team – our first race win and again both cars finishing in the points – this is where we need to be!"
BREAKING NEWS…

We can't quite believe we're saying these words – but it's official:

WE HAVE OUR FIRST @FIAFORMULAE VICTORY!!! ???#MadeInMonaco #ABBFormulaE #HKEPrix pic.twitter.com/3yopbZuCWw

— VENTURI Formula E Team (@VenturiFE) March 10, 2019