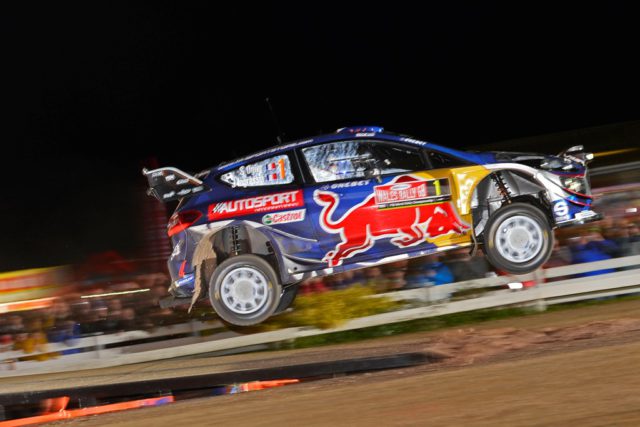 Sebastien Ogier took a fifth consecutive title in the World Rally Championship, while his teammate Elfyn Evans won Rally Wales GB. M-Sport took the Constructors' crown for 2017.
CHAMPIONS!! M-Sport secure the 2017 FIA World Rally Championship for Manufacturers!!! ? #WRC #WRGB #Champions pic.twitter.com/xiCz2AvkmS
— M-Sport (@MSportLtd) October 29, 2017
CHAMPIONS X2!!!! @SebOgier and Julien Ingrassia secure their fifth world title on our amazing team's home soil ?? #WRC #WRGB pic.twitter.com/nXxrRgDQGy

— M-Sport (@MSportLtd) October 29, 2017
Congratulations @SebOgier World Rally Champion 2017! @fia #JulienIngrassia @MSportLtd @Michelin_Sport @Michelin @WalesRallyGB #WRC pic.twitter.com/zSobMpMTLf

— WRC (@OfficialWRC) October 29, 2017
YESSSS!!! @ElfynEvans and @danielbarritt win @WalesRallyGB to take their maiden victory on home soil ??? #WRC #WRGB pic.twitter.com/NoDptlUmbL

— M-Sport (@MSportLtd) October 29, 2017
Elfyn Evans made history by becoming the first British driver to win Britain's round of the FIA World Rally Championship in 17 years
He is also the first Welsh driver ever to win any event on the globe-trotting WRC calendar.
Evans led virtually throughout the epic four-day contest. The man from Dolgellau reached the finish 37.3 seconds ahead of his closest rival to complete a famous victory that delighted the huge and enthusiastic home crowd. Thierry Neuville was second in the rally.
Evans came coming agonisingly close to winning in Argentina earlier this season. The Welshman missed out by less than a second after more than three-and-a-half hours of competitive action. Now he has broken his WRC duck and in fine style, joining British legends Roger Clark, Colin McRae and Richard Burns as the fourth homegrown hero to inscribe his name on the hallowed Peall Trophy.
"It's been a good rally", enthused Evans, who has just three full seasons under his belt in the WRC elite. "I'm incredibly grateful to everybody that has stood by me through all these years. To get to this point has taken a lot. To all the people who have supported me and backed me – this is for you! And this result only makes us even hungrier for more!"
Ogier thanked M-Sport and personally Malcolm Wilson for his fifth title.
"All our titles mean a lot but this one came after a very hard fight. We had to take risks. It hasn't been an easy one to grab", he added.
#WRGB results
?Evans
?Neuville
?Ogierhttps://t.co/WXVofXt5yx pic.twitter.com/UVqR5GmyZp

— Michelin Motorsport (@Michelin_Sport) October 29, 2017