Pierre Gasly took seventh place in his first Monaco Grand prix and was very happy with the result. He also did not share other drivers' opinion that the race in the principality was a procedural boredom.
Gasly: My first Monaco Grand prix was an amazing race!
"My first Monaco GP in Formula 1 and my second time in the points, honestly, it was an amazing race! Starting P10, we knew it could be difficult but the car was just so fast! I tried to be careful with the tyres from the beginning, and when I was alone on track I could just push flat out because I was feeling good with the car. We managed to exit after the pits in front of the others and I fought hard to keep [Nico] Hulkenberg behind because we know that in Monaco it's hard to pass. I just tried to stay focussed and not to make any mistakes because, in the end, the tyres were quite used. It wasn't easy but we managed to finish in P7. I'm just super happy!", Gasly exclaimed.
Yessss, 7th in Monaco GP ? Merci @ToroRosso !!! Congrats @danielricciardo for the win!! ?????? pic.twitter.com/DDCH3mdkOc

— Pierre Gasly ?? (@PierreGASLY) May 28, 2018
The other Toro Rosso driver – Brendon Hartley – had a tough race and did not finish it after Charles Leclerc crashed into him
"I had a pretty good start, but I damaged my front wing on the first lap at Turn 5 which was annoying. It was an uphill battle from there, the tyres quickly faded with lack of front downforce, but we held on and made a big effort to make the Ultrasofts last until the end. We pitted really early to make an undercut which was a good strategy, and towards the end of the race I was catching Carlos [Sainz] for P10, but then I got hit from behind by a Sauber."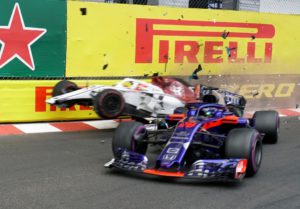 "Charles and I spoke afterwards and he said he lost the brakes, it's pretty frustrating, but that's Monaco. We were strong all weekend apart from Q1, where we didn't get it all together. I was happy with how I was driving but ultimately it wasn't meant to be", the New Zealander explained.
Team principal Franz Tost pointed out that the team was quite competitive from Thursday onwards but did not get everything out of its package in qualifying
"First of all, congratulations to Red Bull Racing for this fantastic victory. [Daniel] Ricciardo deserved it more than anyone else, and I'm really happy for him and Red Bull winning this prestigious and important race here in Monaco. Pierre Gasly did a fantastic job finishing in seventh place, he controlled the race from the beginning onwards and he really took care of his tyres. Taking into consideration it was his first time here in Monaco in a Formula 1 car, he managed the tyres in a very professional way, therefore we could stay out with the Hypersoft so long. The strategy was also absolutely correct, calling him in very late which put him in 7th position", he added.
"Brendon Hartley was close to scoring some points, but unfortunately, Leclerc crashed into his rear and he could not finish the race. We are now looking forward to Canada, where we expect a similar performance as we've had in Monaco."