Flying Finn Kalle Rovanpera enjoyed a dominant victory in the junior class of the FIA World Rally Championship in Wales, Great Britain. Twelve months ago he came to Dayinsure Wales Rally GB for his World Rally Championship debut 26 days after his 17th birthday. In a baptism of fire, he finished 15th in class, having struggled to come to terms with roads and conditions, the like of which he'd never seen before.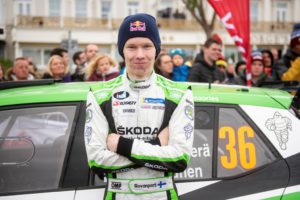 Four days after his 18th birthday, Kalle Rovanpera started Britain's premier rally again
This time he was part of the Skoda factory team and it was his eighth start at the sport's highest level. By the end of the first morning, he'd won five from six stages and was sitting on a 30-second lead. Much of that lead came from a simply unbelievable run through the 29.13-kilometre Brenig test, where he was 26.2s faster than anybody. And that in a class where the regulations are written purposefully tight to make competition as close as possible.
In the end, he won 15 of the 23 stages to seal a win over his illustrious team-mate by more than a minute and a half.
"Maximum attack," he grinned. "That's how I did the time in Brenig. I knew this was a place where the grip would be changing a lot, so I just pushed like hell. There were a couple of places where I knew I couldn't go so crazy, but everywhere else I was as fast as I could be."
Rovanpera is, of course, the wunderkind son of one-time world rally winner Harri
Harri said: "I finished second on this rally twice. Last year I told Kalle about the way road is always changing, in one corner you have grip, but it's gone in the next one. This time, I don't tell him nothing. He just drives."
Rovanpera's deal keeps him at Skoda for the next two years. But already there are plenty in sport noting this flying Finn's rising and needs the keys to something quicker.
First WRC2 victory of the season feels so good after being so close already few times!!

? Jaanus Ree / Red Bull Content Pool pic.twitter.com/GpIRF0ckBe

— Kalle Rovanpera (@KalleRovanpera) October 7, 2018