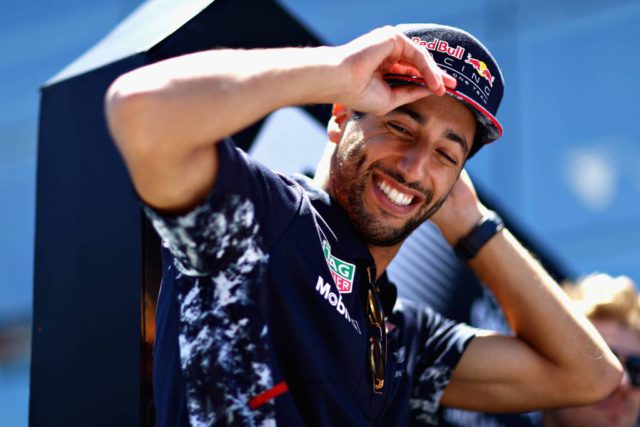 Daniel Ricciardo wants another before the end of the 2017 F1 season. His last chance for the year will be next Sunday when the Abu Dhabi Grand prix will take place.
"Yas Marina has actually been one of my favourite tracks over the years. It's been a bit like Suzuka for me though, a track that I've always enjoyed and gone well on but not quite reached the podium at. I broke that trend in Suzuka this year so hopefully I can do the same in Abu Dhabi", Ricciardo commented.
"It's a fun track to drive, I like the twilight thing and I guess because it's the end of the season it's even more enjoyable. We practice in the daylight but race at twilight which makes things more challenging. You generally don't look too much into the sunlight sessions because in the evenings, when it counts, the track cools down and the car changes so much. I wouldn't say they are wasted sessions but you do have to take them with a pinch of salt."
"When you have so much time away from the car in the offseason it helps to sign off with a strong result as it makes you feel like you really deserve a break. I think we should have a strong car in Abu Dhabi. I said I want another win before the season is out and I think we have a decent chance of achieving that."
'They say Brazil is a tough place to overtake'@danielricciardo: I've got this… twice ?#F1 #BrazilGP ?? pic.twitter.com/CsGQHXXcWG

— Formula 1 (@F1) November 15, 2017
Daniel Ricciardo wants another before the end of the 2017 F1 season
The other Red Bull driver Max Verstappen also said that the team will try to finish the season with a strong result.
"Last year was actually quite a good race after skipping a pit stop following a spin at Turn 1, it was hard to manage the tyres to the end of the race but we did it and finished fourth", he continued.
"I would say that my favourite part of the track is at Turns 2 and 3, the fast left, right. It's also very cool driving underneath the hotel and racing in the darkness with all the lights. The final sector at Yas Marina is actually quite technical. So you have to be really precise there, but it should also be our strongest part of the track. There are quite a few overtaking opportunities to make the race interesting. Before the long straight at the hairpin and then at the end of the straight under braking for the next chicane section."
"Abu Dhabi is the last race on the calendar, but I don't actually want the season to end. I'm really fired up at the moment and I just want to keep going. The nice thing will be to spend some time with friends and family over the winter break. And then I will look ahead to January and get back into training before it all starts again."